About this Event
The Art of Collaboration is a collective of artists and thought-leaders that brings together specialists in the fields of education, mental health, design and innovation and organisational consultancy to cultivate transformation through collaborative action.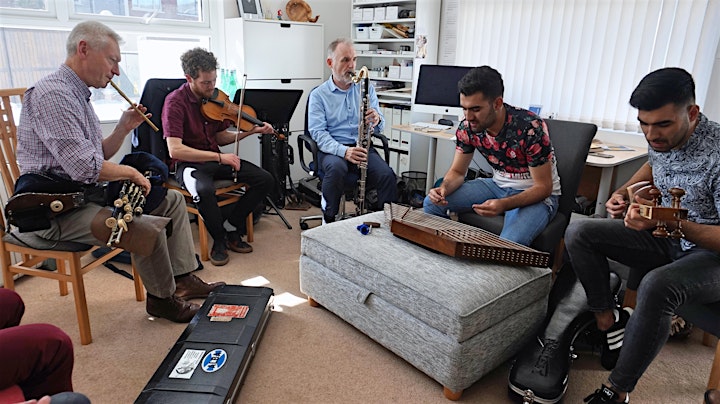 TAoC will create an immersive, creative experience for the audience through dialogue, music, story, visuals and spoken-word. In the process they will collaborate with the audience to create new work to be performed in the course of the day. This creative dialogue will take the form of music, spoken and visual inputs from members of the collective that will be interwoven with collaborative working with the audience to develop ideas, to facilitate new work with audience participation.
Dr. Paul Roe Project Director. International Performer and Pedagogue. Lecturer Royal Irish Academy of Music and DIT Conservatory of Music & Leadership Coach. He is a leading figure in performance, education and coaching in Ireland and Internationally.
Shahab Coohe from Iran started his music education aged eight, on santoor (a trapezoid-shaped stringed instrument that pre-dates the duclimer and piano). He also plays violin and is currently studying performance at the Royal Irish Academy of Music. He plays with the award winning new band Nava.
Shayan Coohe started playing the Tombak at age seven and went on to study Tar (a plucked string instrument which pre-dates the lute and guitar). Shayan continued his studies at the Conservatoire of Music in Tehran aged 11. He also plays Daf, Setar and Tanbour and is currently studying Clarinet at the Royal Irish Academy of Music. he plays with the award winning new band Nava.
Dr. Cyril Kirwan Work and Organisational psychologist. Experienced in airline and financial services, he designs and delivers interventions in leadership development, change management and executive coaching. He is a certified management consultant and an accredited member of a variety of psychological and coaching associations.
Prof. Jim Lucey is Medical Director (Master) of St Patrick's Mental Health Services. He has been a Senior Lecturer in Psychiatry at the University of London at St. Bartholomew's Hospital, London, and at The Royal College of Surgeons in Ireland and is currently Clinical Professor of Psychiatry at TCD. He is a fellow of the Royal College of Physicians of Ireland and of the Royal College of Psychiatrists in London, as well as a member of the College of Psychiatry of Ireland. Prof. Lucey gives public lectures and is a regular broadcaster on mental health matters on RTE radio and speaks on mental health at CPD Board conferences.
Dr. Sean Roe has been active in Medical Education for over 25 years. He is currently a Lecturer (Education) in the School of Medicine, Dentistry and Biomedical Science in Queens University Belfast. He is responsible for the provision of second year Physiology education to medical students there, and is assessment and feedback coordinator for the Centre for Biomedical Science Education in QUB. He is published widely in many aspects of medical/physiology education.
Laoise O'Brien is a leading early music practitioner, a music producer, an outstanding pedagogue and virtuoso recorder soloist. She is a lecturer at DIT Conservatory of Music.
Mick O'Brien plays uilleann pipes, whistle and flutes. He performs regularly as a solo artist with the RTE Orchestras and international group Secret Garden. He has performed with all the leading Irish traditional musicians including The Dubliners Frankie Gavin, Caoimhin O Raghallaigh and many others. He has toured extensively in Europe and the USA.
Ultan O'Brien is a fiddle player from Clare active in the worlds of performance, composition and education. He performs and records traditional and contemporary Irish music as a soloist and with various bands/ensembles.
Killian O'Brien holds an integrated MAI, BAI, BA degree in Mechanical & Manufacturing Engineering from TCD, a Diploma in Graphic Design and formalised his education in Design Thinking by completing an intensive postgraduate programme in Design for Innovation Strategy at IED Barcelona.