The Art of Compassionate Living with Andrew Warr

Saturday, 4 November 2017 from 10:00 to 17:30 (GMT)
Event Details
The Art of Compassionate Living with Andrew Warr
Learning to cultivate our natural capacity for love and compassion
Saturday 4th November 2017
Our Lady's Hospice
10.00 am - 17:30 pm
Registration 9.30 am

Although kindness and compassion are basic human qualities, it is not always easy to embody them in our lives, especially in today's hectic, fast-paced world.  The good news is that we can cultivate compassion, bringing major benefits for our health and well-being, and our relationships with family, friends and colleagues.
Andrew Warr will present simple ways to develop our empathy and compassion for ourselves and those around us—at home, at work and in every aspect of our lives.  Through these methods, we can discover the strength and resilience to meet challenges head-on and to lead more meaningful and fulfilling lives.
This exploration of empathy and compassion will include instruction in meditation and compassion practices from the Buddhist tradition but will be conducted in a spirit of open enquiry and so will be relevant for those of any spiritual tradition or none.
Andrew Warr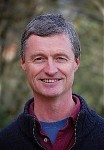 Andrew Warr has had a regular meditation practice for 40 years and has been studying and practicing Buddhist meditation since 1982. He has been teaching meditation for over 20 years and since 2001 has been leading courses, seminars, and retreats, principally on the subject of loving kindness, in Europe, Australia and North America. He has been a student of Sogyal Rinpoche since 1984 and has taken a prominent role in designing curriculum courses in Rigpa over many years. With great clarity, warmth and humour, Andrew skilfully guides people through the teachings and practices, and shows how these can be applied to our everyday life.

Venue Details
Address:

Education & Research Centre
Our Lady's Hospice & Care Services
Harold's Cross
Dublin 6W
Website: http://olh.ie/education-research/
Directions: https://goo.gl/DS3j9p
Do you have questions about The Art of Compassionate Living with Andrew Warr?
Contact RIGPA
When & Where

Education & Research Centre
Our Lady's Hospice & Care Services
Harold's Cross, Dublin 6W


Saturday, 4 November 2017 from 10:00 to 17:30 (GMT)
Add to my calendar