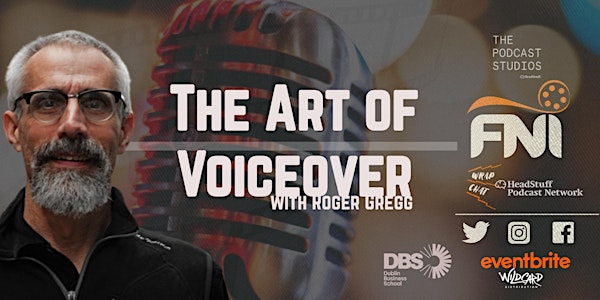 The Art of Voiceover 2
The Art of Voiceover 2: Introductory Workshop with Roger Gregg
When and where
Location
The Podcast Studios 14a Magennis Place D02 YY65 Dublin 2 Ireland
Refund Policy
Contact the organiser to request a refund.
About this event
The Art of Voiceover: Introductory Workshop with Roger Gregg
Due to huge demand, we're back with the second intro Workshop for performers we couldn't accommodate in our first Class late in 2019.
This day long workshop will introduce the participants to the basics of voice overs. This will include voice overs for commercials, narrations, podcasts and animations.
The workshop will be conducted in an actual working professional studio environment. (The brand new PODCAST STUDIOS) our participants will be led through a series of voice over exercises to introduce them to the rudiments of how they can best harness their ability through voice in front of a professional microphone. Under the direction of Roger Gregg, the participants will work with actual scripts drawn from professional commercials, narrations and animations. Whilst learning about the genesis of audio recording and making contacts in a jovial and professional setting.
Basic concepts of using the voice in audio recording will be introduced and demonstrated.
These concepts include: Tone, voice placement, pacing, dynamics, articulation, breath control, plosives and proximic effect.
Each participant will have ample opportunity to work and be coached in a professional recording setting. Throughout the day those participating will be recorded by a studio engineer to enable playback for optimal monitoring and critiquing purposes. This class is one which will prepare you for a journey in the world of Voiceover and give you the solid foundation in which to be confident in any audio recording environment.
People who take part in this class are eligible to take part in our advanced series of classes exploring a variety of different modules, to help build and solidify work for the serious voiceover performer in June/July 2020. This will include building material across the plethora of voice opportunities, in Radio Drama, Animation and commercial work.
There will be a group project as part of the project over a number of weeks with guest Tutors and mock advert takeaways for Demos.
ABOUT ROGER GREGG:
Roger is an award-winning Playwright, Composer, Audio-producer, Musician and Actor. Over the past 36 years he has written plays for many Theatre companies including: Crazy Dog Theatre, Dublin Youth Theatre, TEAM Theatre, Razor's Edge Theatre. Oberon Theatre Co. Charisma Check, The American National Audio Theatre Festival, Graffiti Theatre, and The Gaiety School of Acting. His stage and radio plays have been produced professionally by companies in Ireland, Germany, Canada, America and Australia. His Crazy Dog 'audio-movie' productions have won many international radio awards including; 5 American Mark Time Science Fiction Awards, 3 American Ogle Fantasy Awards, the HOTPRESS magazine's 'audio comedy of the year' and 2 AUDIOFILE magazine Golden Earphone Awards. In 2006, in a special feature profiling his audio work, BBC Radio 4 hailed him as 'one of a handful of truly great radio dramatists'. His Written material has appeared at numerous live events, On Rte Radio, BBC Radio and across the United States.
A voice actor in literally hundreds of commercials and animation series, one of his most noted roles is 'Eddie the Computer' in the Sony Award winning Hitch-Hiker's Guide To The Galaxy sequels on BBC Radio 4. In 2016 he produced The Bee-Loud Glade radio series for Lyric FM in which he set contemporary Irish poems to original music and soundscapes. In 2017, he was Voice Director for Academy Award winning Brown Bag Production's animation film; 'Angela's Christmas'. A cast member in many animation series, he is currently appearing as 'Glarg' in Disney XD Television's. animation series; 'Space Chickens In Space'. He is also currently the narrator for the visually impaired for Amazon Prime's animation series; 'Pete The Cat','Bug Diary' and 'Dorg Van Dango'. His most recent written work 'From the River of Ghosts' was performed in Dublin City and adapted for Rte Radio and is currently available on the RTE radio player.
https://www.rte.ie/drama/radio/plays/2019/0808/1067676-from-the-river-of-ghosts-by-roger-gregg/
With B.A and M.A. first class honours degrees in Theatre Studies, Gregg has been a tutor at Ireland's National Drama School - the Gaiety School of Acting for a number of years where he conducts courses in Acting In The Audio Medium. He is one of a handful doing this in Ireland.
Roger is also an accomplished Musician and multi instrumentalist, creating soundscapes and scores often for productions of his own and that of others. He is also a serving member of Arts Council of Ireland's Panel of Peers.
Check out Episode 39 of FNI Wrapchat with Roger:
https://www.headstuff.org/fni-wrap-chat/39-roger-gregg-director-actor-writer-voiceover-artist/
https://rogergregg.com/ for more info.
#WeAreFni