Location
Mother Macs
9 High Street
V94 W8XF Limerick
Ireland
An original Irish whiskey & French/Irish cheese self-guided tasting trail in the historic centre of Limerick city!
About this event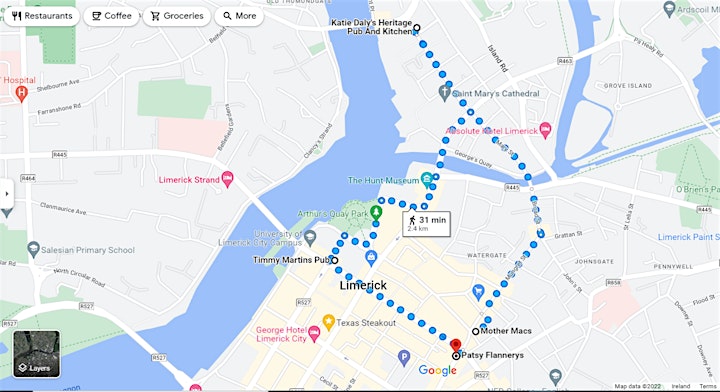 The Whiskey & Cheese self-guided Trail is presented as part of Limerick Bastille Day Wild Geese Festival 2022. This self-guided walking tour will allow participants to take in many of the significant sights of limerick city while enjoying the pairing of Irish Whiskey with French or Irish cheese during 4 designated stops. The Trail pack includes 4 selected French or Irish cheeses (provided by Country Choice) and 4 vouchers redeemable for a whiskey sample at the designated stop where the staff will be on hand to answer queries.
The trail pack will be pre-sold in advance of the weekend and will include:
• Sample of French or Irish Cheese * 4
• Tasting/pairing information booklet
• Whiskey voucher – 1 redeemable voucher per public house
Participants will walk between the 4 Public Houses (Mother Macs, Katie Dalys, PA Martins & Patsy Flannerys) forming the trail and use the voucher to redeem a 25ml sample of a designated whiskey. They will eat the cheese while sampling the whiskey. The trail begins at Mother Macs where participants can collect their cheese selection and redeem their first whiskey voucher.
Whiskey: Hanson
Producer: JJ Corry (Co. Clare)
Location:
Style: Blended Irish Grain Whiskey
ABV 46%
Age Statement: No, but is a blend of 4, 9 & 10 year old whiskey
Nose: Prominent notes of Vanilla and toasted Oak. Sponge cake and rum-raisin ice cream, with a good drizzle of chocolate sauce.
Palate: A crisp and fruit forward grain whiskey. Flavours of ripe summer fruit including fresh peach and pear. Rich and complex with a hint of vanilla balanced with soft oak spices.
Whiskey: The Journey
Producer: Sailors Home (Co. Limerick)
Location:
Style: Blended Irish Grain & Irish Malt Whiskey
ABV 43%
Age Statement: No,
Nose: An intriguing blend of Clove, Apricot and Cream Café with a lingering aroma of vanilla reminiscent of crème brulee
Palate: An initial smooth and creamy mouth feel developing into flavours of ripe banana, cinnamon and toffee – complimenting a molasses sweetness.
Whiskey: Watershed
Producer: Tipperary Boutique Whiskey (Co. Tipperary)
Location:
Style: Single Malt Irish Whiskey
ABV 47%
Age Statement: No,
Nose: A refreshing sense of summer; clean and crisp malt aromas coupled with a hint of lemon and tropical fruit.
Palate: Immediate thoughts of dessert – flavours of vanilla, lemon and fresh fruit with a hint of cinnamon and sugar
Whiskey: Redbreast 12 Year Old
Producer: Irish Distillers Limited (Co. Cork)
Location:
Style: Pot Still Irish Whiskey
ABV 40%
Age Statement: 12 Year Old
Nose: A rich blend of caramel, toffee and dried fruits with a distinguishable sherry presence. Touches of spice and coffee.
Palate: Rich and mouth filling pot still with identifiable flavours of dried sultanas and raisins steeped in a rich sherry, generating a flavour profile often likened to Irish Christmas Cake.