The School of Irish Archaeology is proud to introduce their finest product the Big Dig! The replica 'Viking House' workshop and excavation.
About this event
Join the Big Dig to celebrate a family-friendly Heritage Event this summer. Everyone who attends, will partake in, and enjoy all the amazing and fun-filled workshops over the course of the day. Our child friendly Big Dig will be there from 11am - 4pm running workshops at throughout the day. This event is kindly supported by Fingal County Council and Mountainview Youth & Community Centre. This is a ticketed only event - places are limited, so book online now!
The children will partake in our popular Big Dig Workshop plus we will be offering special add-on workshops as part of the event. The children will get to see our Viking Seax Workshop where the children learn about the ancient craft of Bladesmithing. They will learn about the art of sword design and the role a blacksmith played in society. Availability is limited!
About us
The School of Irish Archaeology is proud to introduce their finest product the Big Dig! The replica 'Viking House' workshop and excavation is designed around children from 5 – 12 years of age.
This innovative product allows children to explore the Viking world through a simulated and controlled archaeology dig. Children have an opportunity to experience what it is like to be an archaeologist by learning how to excavate the remains of a Viking house. They will have an opportunity to dig for Viking treasures and artefacts dating back over 1000 years and learn about our Viking ancestors through the eyes of real archaeologists!
We ensure this educational and one of a kind experience won't leave your children disappointed. We guarantee it will leave them wanting to know much more about the work of archaeologists and who our ancient ancestors were!
FAQs
Do I have to bring my printed ticket to the event?
Yes
Is my registration fee or ticket transferrable?
Yes
Is it okay if the name on my ticket or registration doesn't match the person who attends
Yes
Are there ID or minimum age requirements to enter the event
Ages 5 - 12
What time to arrive at?
At least 10 minutes before the event
Please Note: Parents must stay with their children at all times during the event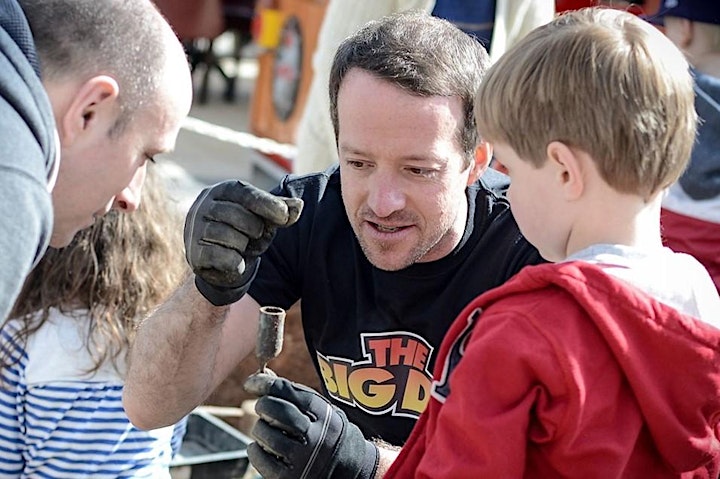 Organiser of The Big Dig - Blakestown Community Resource Centre - 30th July
The School of Irish Archaeology's mission is to educate our young people about Ireland's rich ancient culture. We bring the past to life through practical, interactive experiences in a hands-on learning environment.
The Big Dig and other SIA events recreate archaeological excavation sites, where children discover their past using simple tools and techniques. We aim to introduce the profession of archaeology to children in a fun and enjoyable way.
This approach is perfectly suited to a child's natural curiosity and eagerness to roll up their sleeves and explore a site. They learn to recognise and log details of ancient artefacts, tools, bones and utensils, as they develop an understanding of Irish heritage, culture and identity.
Ireland's landscape and regions contain a wealth of historical treasures, which means a different story can be discovered wherever we go. Our classes, camps and events take in geological and environmental circumstances of ancient times, which often determined where a culture might thrive, and where it would not.
Children can take a step back into history, as they recreate ancient items such as clay pots and leather shoes, and even ancient weapons. Our camps offer a safe and fun environment, where we explore the past through our future.