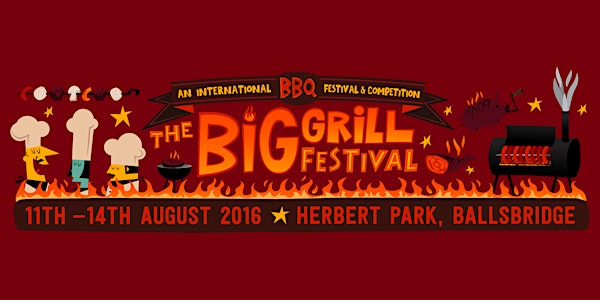 The Big Grill 2016 - BBQ Festival & Competition
When and where
Location
Herbert Park Dublin Ireland
Description
The Big Grill Festival, Herbert Park, Ballsbridge, Dublin. Aug 11-14th.
==========================================
Opening Times :
Thursday & Friday 4pm
Saturday & Sunday 12pm
Afterparties each day: www.biggrillfestival.com/afterparties
Ticket Prices :
Thursday & Friday e15 + BF in advance [ On the gate e17]

Saturday - SOLD OUT
Sunday e18 + BF in advance [On the gate e20]
Kids under 12 go free [ Sat & Sun are kid friendly only ]
==========================================
Celebrate the age-old art of cooking with smoke and fire at the country's biggest International BBQ Competition, 'The Big Grill Festival', which has its 3rd outing this summer in Herbert Park, Ballsbridge, Dublin 4, from the 11-14 August 2016.
This event has almost doubled in size year on year. It will feature famous Pitmasters from all over the world, mastering flame and fire to create a multitude of dishes using different BBQ techniques and flavours, for an estimated 20,000 visitors. This is live fire cooking at its finest with clean charcoal and wood only; no gas or electricity in sight.
Chefs will illustrate the differences (and similarities) between Asado (South American), Mediterranean, German, Asian, Irish and Southern USA style low 'n' slow BBQ methods for guests to savour. Expect whole hogs, lamb on spits, flying chickens, goat, wild Irish game, Southern Style ribs, Asian skewered meats, Brazilian steaks and much much more.
Headline chefs include Neil Rankin (Smokehouse Restaurant, London), Andre Lima de Luca (Brazil) John Relihan, (Holy Smoke, Cork), Mark O'Brien (Barbecoa, London), 'The First Ladies of Cue' from Hangfire Smokehouse (Wales), Richard Turner (Hawksmoor/Pit Cue, London) along with restaurants Fowl Play, Box Burger (Wicklow), The Pigs Tale (Wexford) and Dublin favourites, Kinara Kitchen, Pitt Bros and Asador. Chefs from Churrascada, Brazil's uber BBQ festival in Sao Paolo, will be joining forces with organiser Andy Noonan's new BBQ venture, Fowl Play, to demonstrate Mallmann-esque cooking techniques that have existed for thousands of years. Head of 'catertainment' will be the renowned and fully spandexed DJ BBQ who will be cooking and compering at the same time.
Amateur BBQ enthusiasts can also get a look in by taking part in the 'Pitmaster Competition' with the chance of winning a place to cook in the famous Jack Daniel's BBQ World Championships in Tennessee in October. To enter, fill out the application form on the website.
While BBQ takes centre stage the food is matched with an enviable selection of Irish craft beer, cider and spirits with producers and chefs on hand for tastings, pairings, advice and of course a good 'Banter' with Jim Carroll.
Bodytonic DJ's will play soul, funk, hip hop and party music throughout the weekend, creating a truly international flavour in the heart of leafy D4. Other activities include eating competitions which feature raw chilies and dangerously hot chicken wings (so hot that participants have to wear goggles!) that are really good fun to watch as are the giant-sized performing 'characters' roaming the park.
Under 12's go free and there is a special area for them on Saturday and Sunday. Activities will include The Great Herbert Park Bug Hunt, and Bushcraft demonstration on how to survive in the wilderness. Along with lots of child-friendly food from a variety of vendors, this makes 'The Big Grill' a great day out for all the family.
Tickets can be purchased at www.biggrillfestival.com @biggrillfest #biggrill
Ticket provides entry only.
For more information visit www.biggrillfestival.com
Afterparties each day: www.biggrillfestival.com/afterparties
Refunds & Cancellation
All tickets are non-refundable.