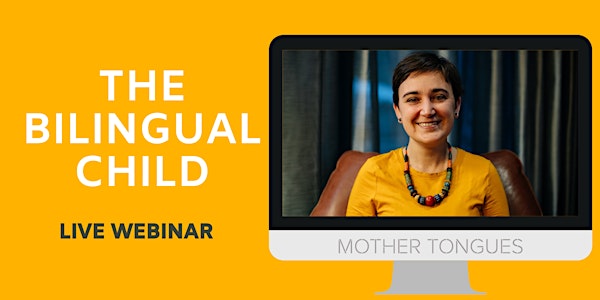 The bilingual child
A three part webinar about bilingualism. Ideal for parents, teachers and early childhood educators.
Refund Policy
Contact the organiser to request a refund.
About this event
Part 1, first language steps for babies and toddlers (7th May)
Part 2, Chatting in two languages: focus on the language skills of 3 to 6-year-olds (14th May)
Part 3, Keeping two languages alive: the primary school years (21st May)
Participants will learn about:
○ How children become bilingual
○ What to expect at every stage
○ Activities that boost language skills in childhood
○ How Mother Tongues supports bilingual/multilingual families
Descriptions of individual sessions can be found at https://mothertongues.ie/_events/list/
During the session, there will be time to discuss questions from participants
Who is this course for?
○ Expectant families who want to raise children with two or more languages
○ Parents/carers of children who are growing up in a home where two or more languages are spoken
○ Parents/carers of children who attend immersion programmes (such as Naíonraí) or dual language programmes
○ Early years educators working with children who grow up using two or more languages
○ Early years educators in immersion settings (such as Naíonraí).
Is the course free?
The course is free to Mother Tongues members. You can join via Eventbrite or by visiting our website. Only Members can attend the webinar.
If you have any questions, please email info@mothertongues.ie
Can I attend only one part?
Yes, you can attend one, two or three parts. Please register using Eventbrite.
What programme do I need?
You can connect using Zoom. A link will be sent to all participants at the start of May.
Do I receive a refund if I don't attend?
Mother Tongues membership cannot be refunded
Where can I find out more?
To find out more about this and other supports for bilingual/multilingual families please visit www.mothertongues.ie