A special Halloween screening! 3 film students vanish after traveling into a Maryland forest to film a documentary on the local Blair Witch.
About this event
Found video footage tells the tale of three film students (Heather Donahue, Joshua Leonard, Michael C. Williams) who've traveled to a small town to collect documentary footage about the Blair Witch, a legendary local murderer. Over the course of several days, the students interview townspeople and gather clues to support the tale's veracity. But the project takes a frightening turn when the students lose their way in the woods and begin hearing horrific noises.
This film was made in 1999 and only this year , 22 years on, topped the list of SCARIEST MOVIE according to a new study by Movie Web. The Blair Witch Project revolutionized horror in 1999, setting a new standard for horror movies, and notably doing while spilling very little blood. It is still one of the most successful independent films of all time.
A documentary within a documentary and the perfect film to scare the living daylights out of yourself amongst friends...and kick off your Halloween!
Due to it being a special Halloween event and new seating plans, we are taking bookings in pods of 2 to 6 people, so make sure to book with a friend, to hide behind if needs be!! :-)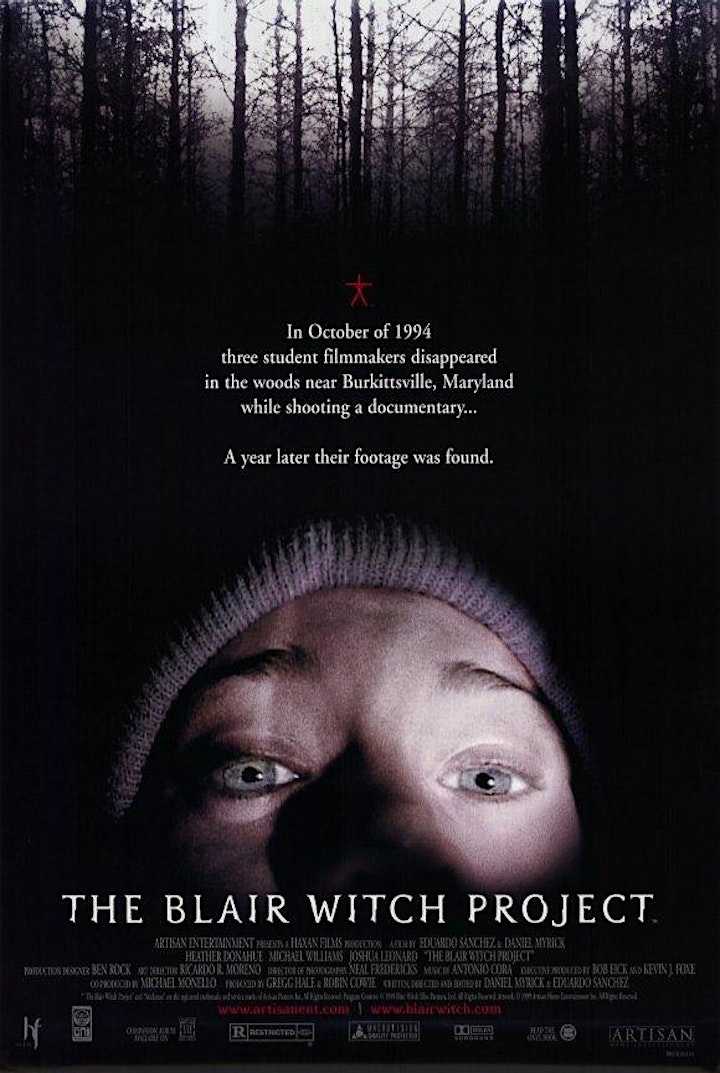 Organiser of THE BLAIR WITCH PROJECT (1999 : 85mins)
The Rialto Cinema Club, in the back room of The Circular, was set up in early 2020 by Jenny Keogh and John McMahon. It managed to squeeze in a few screenings before the world got turned upside down in March of that year. The premise of the weekly cinema night is to show feature length documentary films focusing on music, art and culture, with a lean towards Irish directors and a healthy sprinkling of International directors. It will also show a selection of short documentaries every couple of months. Jenny is a photographer, filmmaker and an avid film festival goer, with a particular passion for the documentary genre, so selecting and programming films is a pure joy and comes easy. John is the events manager at his two D8 venues, The Circular and Luckys – everything from art exhibitions, pottery classes to pub quizzes, so it was an absolute no-brainer to merge their skills to create a weekly cinema event in their local Dublin 8. Jenny's line up of films for the September/October program is setting the bar high. The November/December program is coming soon. And here's hoping we'll have a free run to keep the doors open into 2022!
Biweekly on Tuesdays 8.30pm – Launching 7th September 2021
Tues 7th Sep: PJ HARVEY - A Dog Called Money (Dir. Seamus Murphy)
Tues 21st Sep: SHOW ME THE PICTURE - The Story of Jim Marshall (Dir. Alfred George Bailey)
Tues 05 Oct: BEST BEFORE DEATH (Dir. Paul Duane)
Tues 19 Oct : HENRY GALSSIE - Field work (Dir. Pat Collins)
Tues 26th Oct : THE BLAIR WITCH PROJECT (Special Halloween Screening)