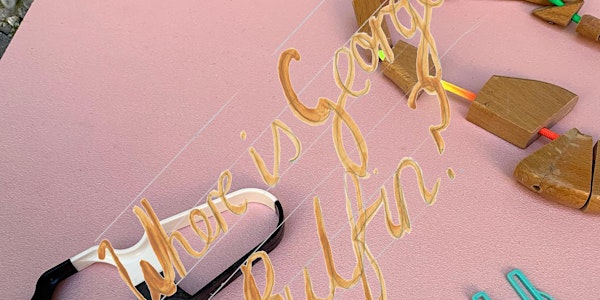 The Bristling Life of a Living Spoon
Image :detail of Florian Weichsberger, DECONTEXT, 2022, image courtesy of the artist. WORKSHOP - FLORIAN WEICHSBERGER - 2nd October, 2-5pm
Date and time
Sun, 2 Oct 2022 14:00 - 17:00 IST
Location
Clayton Terrace Saint Laurence's Road Chapelizod Ireland
About this event
Workshop with visual artist Florian Weichsberger
****Workshop limited to 6 participants****
Since the beginning of humanity people have always carried objects with a special meaning with them, even before religion was established there was already a sprituality connected to things, what now we would call a talisman seems to be a very basic need for mankind, may it be for protection, good luck or a special power there is a long tradition of these meaningful objects.
In his series DECONTEXT, Florian collected objects of everyday life.
After studying their function and aesthetic he stripped away - often literally - their purpose and transformed them into gestural objects. How much can be taken away before an object completely loses its identity, before it truly becomes something else? How much information remains, how much context is needed for us to categorize an object that we have seen and used so often it has become all but invisible to us?
Let`'s create a new talisman!
For the workshop you are invited to bring at least one object what is important to you, may it be your old toothbrush what has served you so well, your favourite comb or the serving spoon which your aunt gave you many years ago. You can also bring additional materials like strings hooks, parts for decoration or paint. Together we will examine these objects, focusing on the meaning and importance to you, to transform it into a talismanic object, may it be a body adornment, a piece for the pocket or something to hang it on the wall. There will be facility to cut, drill, file, and glue, also some additional materials, to complete the piece.
The exhibition is titled Where is George Bulfin? borrowed from by the decorator who penciled his signature proudly on the left-hand side of the hallway as was the custom. His signature which was uncovered when I gently and sensitively pulled back the wallpaper layers offering respect to this place it's dwelling and all that it has brought and will bring. Glandwr was once a place of re-habilitation for men leaving the prison system. It has been a place of re-purposing and harnessing the power of making do.
Curated by Debi Paul
Short Bio's
Florian Weichsberger is a visual artist whose practice focuses on materiality, probing ideas around use and function. On a residency in Amsterdam in 2018 he found various discarded or un-used objects. During this residency he reflected on these everyday utensils, wondering about their most prevalent aspect. He visited anthropological exhibitions, where objects of culture, lay beneath glass vitrines for example; a work glove, and other domestic items which are placed in cases for public viewing. He was also reading contemporary journals about the future of the hand made. As he thought about these things, he began to work with the objects. Florian, took a plastic nailbrush, filed it down, he finished it in such a way that the function has been almost erased. The new artwork is a milky transparent block that includes its easily recognisable original bristle receptacles, that hint or ghost its former use. This relates to his thinking about how the handmade, is part of historical culture, and how some of its parts continue on into a future culture, while others fade away. Recent exhibitions include: DECONTEXT (2019), Gallerie Wittenbrink(2022)
Debi Paul is a visual artist and curator; her practice is rooted both in performance and place, with a focus on the body. She often draws on/learns from site-specific communities of interest. Her work observes the connection between practice and philosophy and ideas that relate to the material world. The work aims to disrupt and challenge routine interaction with the familiar. Curatorial projects include; Palimpsest; Hazel Egan, Site Specific Work, Black Church Print Studio Street Cabinet; Living Balance; Caoimhe Dalton, Kate Fahey, Hazel Egan and Suzanne Walsh, Black Church Emerging Curator Award (2022); Home Bodies; Joanne Reid, Sibyl Montague and Jennie Moran, Glandwr (2021), Behold the Anchoress!; Eavan Aiken + Edwin Kelly, The Darkroom (2017); Configurations of Materiality, a workshop with Vanessa Donoso Lopez, Project Space IMMA (2016); Statecraft, (co-curated) Project Space IMMA (2016); Osmosis, Eunmi Chun, Mirei Takeuchi, Mizuki Takahashi + Sam Tho Duong, Christodoulos Makris, Temple Bar Festival of Ideas and Politics (2015)