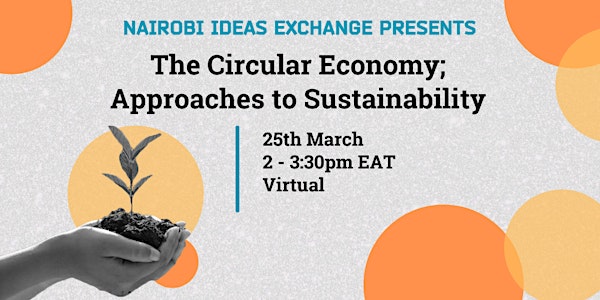 The Circular Economy Webinar; Approaches to Sustainability
Nairobi Ideas Exchange and Edna Kimenju Present The Circular Economy; Approaches to Sustainability
About this event
What is Planetary Health? This March, join the Mawazo Institute's Climate Week to explore how human behavior is changing our planet's health, and what we can do about it. See the full schedule of Climate Week activities and events at www.mawazoinstitute.org/climate-week
Join Edna Kimenju, Sustainability Advisory Manager at Kenya Climate Innovation Centre (KCIC) Consulting as she discusses approaches to a circular economy model. Circular economy models can help businesses become more sustainable, while also offering a much needed response to climate change impacts and biodiversity loss through the conservation of finite resources.
About Edna: Edna is a Sustainability Advisory Manager at Kenya Climate Innovation Centre (KCIC) Consulting. With an MSc in Sustainability & Business from the University of Leeds, UK, she currently supports businesses with a comprehensive range of tailored end-to-end sustainability integration solutions that help them tackle climate change, develop strategies that boost sustainable development, embrace clean energy technologies, transition to a circular economy, innovate around their products/services processes, accelerate access to sustainable finance and streamline supply chains.
Volunteering at FIFA World Cup Russia 2018 under Sustainability Function Area exposed her to monitoring environmental and social impact as well as creating awareness on proper waste management practices. Similarly, over 2 years' experience in the environmental sector at Kenya Forest Service enables her to articulate environmental needs and how to tackle those through spatial data-led solutions. Furthermore, she understands the potential policy resulting from round table discussions has on effecting change and therefore she aspires to implement existing policy and/or participate in formulating new policy that will create positive change in businesses for people and the planet.
The Nairobi Ideas Exchange is part of the Mawazo Institute's Voices Programme, working to amplify the work of African researchers and share findings on African women in higher education and research. This event is supported by funding from the Open Society Foundation.