Event Information
Location
The Workman's Club
10 Wellington Quay
D02 VX36 Dublin 8
Ireland
Shane Daniel Byrne and Joe Rooney join The Craic Dealers for a SUPERMASSIVE CHRISTMAS SHOW! Ending the year with a bang!
About this event
Join Craic Dealers as they return to celebrate the end of a year that was so upside down, nobody knows what day it is anymore.
The 13th of December will see the gang take to the stage of The Cellar in the Workman's Club for their SUPERMASSIVE CHRISTMAS SHOW!
We have the great and powerful Shane Daniel Byrne aswell as the King that is Joe Rooney joining us on the night!
About Shane:
Shane Daniel Byrne is a writer, actor, MC and award winning stand-up comedian. After a decade working as an actor and theatre maker he tried his hand at stand-up and hasn't looked back since. He has performed at clubs all over Dublin as well as major festivals including Vodafone Comedy Festival, The Cat Laughs and Love Sensation. At Cat Laughs 2019 he was named 'The Rockies Champion'.
In the same year he took second place in the prestigious and world famous 'So You Think You're Funny' competition at The Gilded Balloon at Edinburgh Fringe Festival. He has gained a following of nearly 30,000 people on Instagram with his sketches being viewed over a million times in 2020 alone. He has appeared on RTÉ & Virgin Media TV.
About Joe:
Joe Rooney (born 1 October 1963) is an Irish actor, comedian and accomplished singer-songwriter from Tuam, County Galway. He is arguably best known for his acting and in particular for playing Father Damo in the Channel 4 sitcom Father Ted. He features in the episode "The Old Grey Whistle Theft". Rooney has had a starring role in the RTÉ television comedy, Killinaskully, in which he plays Timmy Higgins which ran for five series. Joe also wrote on the fourth and fifth series of Killinaskully. Joe currently hosts the podcast PodaRooney on which he interviews guests who are mostly involved in the entertainment industry. Joe has performed stand up worldwide including New York, L.A., San Francisco, Chicago, Pittsburgh,Toronto, Shanghai, Beijing, Hong Kong, Barcelona, Brussels, Moscow, Muscat (Oman), Manama (Bahrain) and Dubai. He has also performed at Irish festivals in Kansas City (Missouri), Milwaukee and La Crosse (Wisconsin). In more recent years Joe has had featured roles in TV3's Red Rock, CBBC's Roy and the feature films "Monged" and "South". He has a starring role in the feature film Wretch (2018) shot in Kansas City by first time writer/director Mathew Dunehoo. He starred alongside Moe Dunford in the short film Stephanie (2018) directed by Fergal Costello. Other acting roles include Fergus Scully, a roving reporter who speaks in pidgin English and Irish, on the TG4 sketch show Rí Rá. In 1997, he appeared with Paul Tylak in Messrs Tylak and Rooney, a twelve-episode TV3 comedy travel series.
The first half of the show will be a hilarious stand-up comedy show, while the second half will get interactive, improv-y and downright insane. Come with your questions, your Never Have I Ever ideas, your most embarrassing life moments and let us act them out on stage for your viewing pleasure.
We are finishing the year with a bang before we charge into 2022 with all the enthusiasm of a cat in a Christmas tree factory.
We can't wait to see your faces, in the meantime, meet the crew below.
Meet The Craic Dealers:
Keego:
Bringing his 1981 brain into 2021 with hilarious results. Covering the important issues like balding, snapchat and the Irish Kama Sutra!
Follow Keego on Instagram
https://www.instagram.com/keegolaughs/
Betsy Speer:
The perfect mix of dark comedy wrapped in sweetness!
Follow Betsy Speer on Instagram
https://www.instagram.com/betsyspeercomedy/
Sinead Walsh:
Her fast paced, witty and extremely funny stories take in everything from nursing a broken heart, a mothers love and pawing
Follow Sinead Walsh on Instagram
https://www.instagram.com/sineadwalshcomedy/
Ben Verth:
Host of That But Funny podcast, co-owner for Monkey Barrel Comedy Club and owner of a voice so sexy, the furniture will end up pregnant just from hearing it.
Follow Ben Verth on Instagram
https://www.instagram.com/benverth/
Jess Collins:
6 foot tall, opinionated, sometimes sexy bird who enjoys the laugher. Thats the drug Jess sells!
Follow Jess Collins on Instagram
https://www.instagram.com/divajesscoll/
ENTRANCE TO THE SHOW ON ESSEX STREET OPPOSITE THE PROJECT ARTS CENTRE. Covid Vax cert and ID required.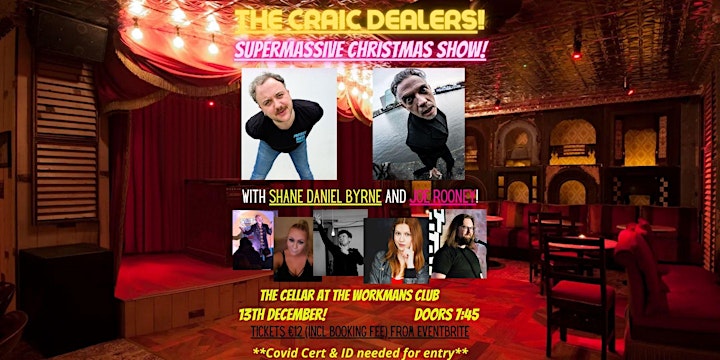 Date and time
Location
The Workman's Club
10 Wellington Quay
D02 VX36 Dublin 8
Ireland