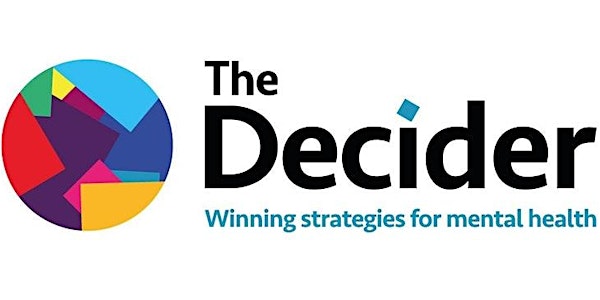 The Decider Skills, Castle Dargan Hotel, Sligo, 5th-6th December
In-person training on the full set of 32 Decider Skills. Castle Dargan Hotel, Sligo, 5th-6th December 2022.
When and where
Location
Castle Dargan Hotel, Sligo Castle Dargan Hotel Ballygawley Ireland
About this event
This training is currently fully booked. If you would like to add your name to a waiting list, please send your name and role to youthwork@msletb.ie.
Sligo Leitrim CYPSC and Mayo, Sligo and Leitrim ETB in partnership with Leitrim Council Childcare Committee are delighted to offer a free two-day in-person workshop in The Decider Skills. This training is for those who are currently working with young people in Sligo and Leitrim. The training will be delivered by Margaret Daly and Gina Reynolds of Anú Community Healthcare.
About The Decider Skills:
One of the greatest challenges is teaching children and young people the skills to understand and manage their own emotions and mental health. The Decider is a skills-based programme which develops resilience. It teaches CBT mental health skills that are fun, effective, memorable and easy to use. It can be used at home, in education and youth settings, in the workplace and in social and health settings. This programme is always valuable, but its value is increased further still in response to the effects of the pandemic.
The Decider summarises thirty-two cognitive behavioural therapy (CBT) and dialectical behavioural therapy (DBT) informed skills under four core skill sets:
• the acceptance skills of distress tolerance
• mindfulness
• the change skills of emotion regulation
• interpersonal effectiveness.
(See The Decider website for full details of programme content.)
In these interactive workshops, the trainers will demonstrate each of the 32 skills within The Decider Programme. The workshops are fun, creative and innovative and probably very unlike anything you've attended before.
The aim is to demonstrate to front-line staff how they can use the skills effectively within their professional practice, both in groups and with individuals. Participants also find the skills very useful for their own personal lives.
Who the programme is for:
The workshops are offered for everyone who works with children and young people in the public / community / voluntary sector to enable them to enhance the mental health of those they work with. This includes:
Youth workers, teachers, mental health nurses, occupational therapists, psychiatrists, psychologists, support workers, nursing assistants, volunteers, social workers, probation and prison staff, therapists and consultant service users.
Places are strictly limited and are restricted to those working in Sligo and Leitrim. In the event that the training is over-subscribed, event organisers reserve the right to reallocate and prioritise places in an effort to ensure as broad a range as possible of organisations can avail of this training.
NB: Following booking, an email from the person's line manager must be sent to youthwork@msletb.ie to confirm that the person will attend the workshops on both days. If this is not received within one week of requesting a place, the place will be forfeited. This is due to the high demand for the training and the high cost per training place – we do not want to waste a place!
Who is supporting this training:
This training has been made possible through funding from The Healthy Ireland Fund supported by the Department of Health and the Department of Children and Youth Affairs. Funding for the training was secured by Sligo Leitrim CYPSC. The training is organised by Mayo, Sligo and Leitrim ETB, in partnership with Sligo Leitrim CYPSC and Leitrim County Childcare Committee.
Training timetable:
The Decider Skills workshops run online over 2 full days (9.30am – 4.30pm). Participants must attend in full on both days.
Please see full timetable for the programme below:
Day one:
9.30am Sign-in and attendance recorded
10am-1pm Introduction to Decider
- Theoretical Underpinnings
- Evidence base
- Outline of delivery in practice
11am - 11.15am Coffee break
1pm Lunch
1.45pm - 4.30pm Skills delivery of 12 skills in sets of 4
- Q&A after each set
- Role play by presenters of each skill
- Invitation for SDL of at least 2 skills and feedback following morning
Day 2:
9.30am Sign-in , meet and greet and attendance record
10am – 10.15am Mindfulness Practice
10.15am Feedback and recap from day one
10.30am - 11.15am Set of 4 skills delivery with theory
- Role play
- Q&A
11.15am Coffee break
11.30am – 1 pm Delivery of 8 Skills in sets of 4 with theory
- Role play
- Q&A
- Section on implementation of Decider in clinical practice.
1pm Lunch
1.45pm - 3.30pm Skills delivery of 8 skills in sets of 4
- Introduction to using Decider website and using resources
- Evaluation of the course
(Each participant gets an emailed evaluation sheet or option to evaluate through Decider website)
- Mime review of all 32 skills, facilitating a recap of each skill
- Commitment statement to Decider
- Invitation to SDL to practice the skills in order to become proficient in their use.
Location:
The event will be held in the Castle Dargan Hotel, Ballgawley, Co Sligo, F91 F2DN.
Covid-19:
Participants will be required to adhere to any Covid-19 public health guidelines that may be in place at the time of the training. In the event of Covid-19 restrictions being brought back in that prevent in-person training taking place, the training will be postponed.
Notes:
Participants are invited to ask questions / reflect / feedback at the end of each set of skills.
For further information on the course, see:
www.thedecider.org.uk
For any queries in relation to this training, please contact:
Trevor Sweetman,
Mayo, Sligo and Leitrim ETB at:
youthwork@msletb.ie