Event Information
Location
The Salmon Bookshop & Literary Centre
9 Parliament Street
Ennistimon
Ireland
'The Demise and Early Rise of the Galway Hooker Revival' - Michael Brogan + Brian Fleming
About this event
Idir Dhá Thrá is an explorative series of music/talks/performances/lectures which responds to the cultural, social and geographical area of North Clare. The events shall take place in the unique setting of the al fresco (outdoors) courtyard garden behind the Salmon Bookshop in Ennistymon. The series will bring together an interesting and collaborative collection of artists, storytellers, lecturers, musicians and poets who will each share from their field of expertise and experience on topics which will resonate with the local communities in North Clare. These series of events are supported by The Department of Tourism, Culture, Arts, Gaeltacht, Sport and Media and the Clare Arts.
For our first event, Dr, Michael Brogan from Kinvara will make a presentation on the demise and early rise of the Galway hooker revival. Michael is a renowned sailor and explorer. He is the owner/skipper of MacDuagh a Galway Hooker in which he has sailed extensively in Irish and European waters. In 1990 he sailed to Iceland and Spitzbergen on Paddy Barry's Hooker St Patrick. Michael will chart the early revival of interest in the Galway Hooker during the 1970's and 1980's following its demise during the previous seventy years. Michael will describe this revival, identify the factors that caused it and will include details of the people and the hookers involved.
Our opening event will also feature a performance from drummer and percussionist Brian Fleming. Brian Fleming is a drummer, theatre maker, and festival director who has performed in over 30 countries, including all countries in Western Europe and Scandinavia and many on the Asian, African and American continents. He has recorded on over 50 albums and performed with musicians such as Davy Spillane, Mamady Keita and The Chieftains. Brian is based in North Clare, and will open our series of events with an immersive percussion performance.
All Idir Dhá Thrá events will be held outdoors and everyone in attendance is reminded to abide by the Covid restrictions currently in place.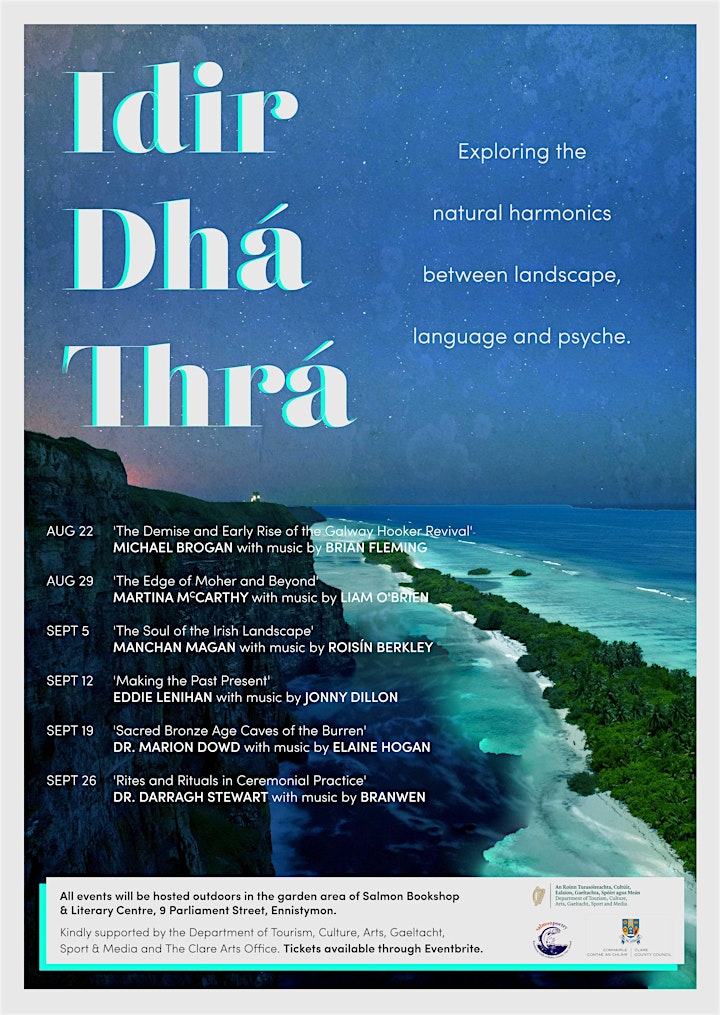 Date and time
Location
The Salmon Bookshop & Literary Centre
9 Parliament Street
Ennistimon
Ireland