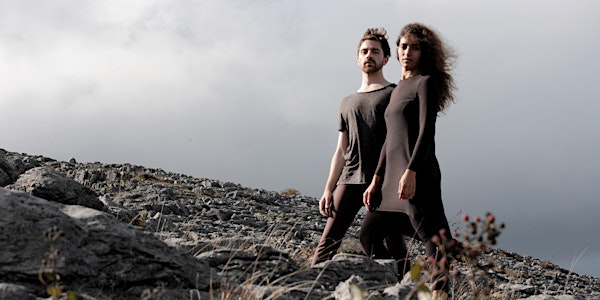 The Dreaming of the Bones
When and where
Location
O'Donoghue Centre for Drama, Theatre and Performance University Rd University Road H91 T8WR Galway Ireland
Refund Policy
Refunds up to 7 days before event
Description
The time is 1916. A young man arrives to the hills of County Clare by night time. He is on his own, looking for refuge after he had taken part in the Easter Rising in Dublin. After some time trying to find his way on the mountain side, two strange figures emerge from the dark, and offer him guidance. It soon turns out that they are not ordinary people, but the ghosts of the infamous twelfth century couple, Dermot and Dervorgilla, who have been held responsible for the first invasion of Ireland by foreign armies. They need the young man's help.
The Dreaming of the Bones is a one-act dance piece by W. B. Yeats. Written in 1918, it is one of the earliest plays by an Irish writer for physical theatre, with dance, masks and music. With its completion only two years after the Rising, it was deemed too problematic for the public stage for more than a decade, hence no attempt was made to produce it until its late premiere in the Abbey Theatre in 1931. Since then, it became one of Yeats's most frequently played dance dramas both in Ireland and abroad. Inspired by the Japanese Noh theatre tradition, Yeats wrote this piece for an empty stage, where movement, gesture, masks, spatial relations and dance all contribute to act of storytelling.
After their acclaimed debut at the Galway Theatre Festival with The Only Jealousy of Emer in 2018, DancePlayers Company returns with a new staging of The Dreaming of the Bones, in an attempt to exploit the qualities of the dance play to the full, thus showing the availability of Yeats's play texts for contemporary audiences. The play will be staged with live music, composed exclusively for the performance.
Cast:
Aimee Banks, Kashi Cepeda, Jeremie Cyr-Cooke, Conor Gormley, John Rice, Una Valaine
Directed by Melinda Szuts
Music Akos Lustyik
Choreography Jeremie Cyr-Cooke
Lighting design Sarah Timmins
Stage manager Aisling Fitzsimons
Masks and design Yvette Picque
Gergely Kuklis violin
Nicola Geddes cello
Gilles Dupouy harp