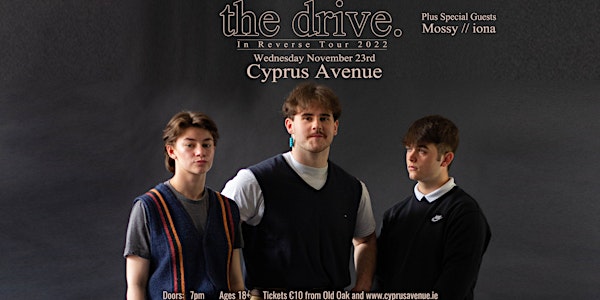 The Drive.
Cork band The Drive. release brand new Single 'Shoulders' and return to Cyprus Avenue this November 23rd as part of their Irish tour
When and where
Location
Cyprus Avenue Caroline Street Cork Ireland
About this event
the drive. return to Cyprus Avenue this November 23rd with special guests Mossy & iona on support.
The first of two singles leading The Drive.'s sophomore EP 'In Reverse', Shoulders is a shoegaze-soaked driving force discussing issues of childhood and mental health. A proven track record of witty and insightful songwriting, unique winding guitar lines, and driving drum grooves, the band have quickly gained traction.
The Drive. quickly realised the track was an indisputable crowd favourite on their sold-out 'No Fuss' tour in February 2022, swiftly teaming up with Drogheda-based producer & mix engineer Daniel De Burca (Post-Party, Paddy Keyes) in refining and creating the final version of the track.
Ethereal and seemingly unassuming at first, Shoulders briskly skips from its dreamy to its more nightmarish dynamic sections, with the song's climax accompanied by harrowing screams and razor sharp guitar lines. Sincere and sombre in its lyricism, Shoulders proves incredibly personal and almost feels intrusive to listen to, like reading someone else's diary.
'Maybe I should stop, and think about myself for once, oh my f***ing god!'
'Keeping busy so my mind won't catch up with me. Avoiding all my problems, oh I do it beautifully…'
Shoulders is out now on Egg Twelve Records.
Previously to Shoulders, The Drive released 'Headstraight' in September
Originally written in 2020, Headstraight is a song that is years in the making. Beginning in the spur of the moment, an early acoustic version of the track would be released as a B-side to the band's breakthrough single 'Mossbawn'. Headstraight delivers a perfect guitar-driven balance of the unique sound that The Drive. have developed to date and an irresistible radio-ready hook amidst melancholic yet wishful lyricism.
About The Drive.
Initially formed in 2018 over a mutual love for Mancunian indie legends such as The Smiths and The Stone Roses, Cork-based outfit The Drive. now consists of Eoin Murphy (guitar/vocals), Alannah Hynes (bass/vocals), and Alex Redmond Galligan (drums).
A plethora of standalone singles, a debut EP, and countless shows on the Irish and UK touring circuit, The Drive. have undeniably developed the deserved status as one of the most promising young bands Ireland has to offer.