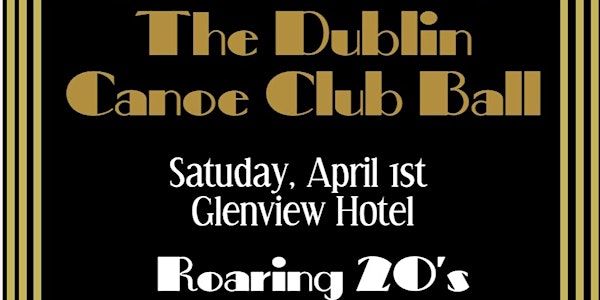 The Dublin Canoe Club Ball
Come join us for a night of eating, drinking, dancing and craic! Reserve a spot here and we will be in contact regarding payment!
Date and time
Sat, 1 Apr 2023 18:00 - Sun, 2 Apr 2023 02:00 IST
Location
Glenview Hotel and Leisure Club Glenview Hotel and Leisure Club A63 DC95 Glen of The Downs Ireland
About this event
It's the 20th freakin' ball y'all! For anyone that hasn't attended one of the previous balls let me give you a rough breakdown. We start the day by meeting at Sluice for some 'friendly' races and competitions. BYOB (Bring Your Own Boat) for the chance to pick up some preeeeetty sick prizes.
After getting wild and wet with everyone all morning, we take a few hours to paint and decorate ourselves before the evening's festivities. Our theme this year is the roaring 20's so dust off your suspenders and take some time to to brush up on your flapper dance before we all meet up again at the Glenview Hotel (address included above) around 6pm. Upon arrival you'll receive a complimentary drink and be shown to our welcoming suite to recreate as many Great Gatsby memes as possible as well as maybe some nice photos in all your finery with our professional photographer before we move to the dining room for a pretty stellar four course meal.
Our dashing MC for the night is Leonardo di Ca... I mean Lorcan McDonnell (very easily mixed up those two) and we'll have our award ceremony to celebrate the achievements of some of the people who excelled in their own ways at sluice earlier in the day. This year our ball is in aid of the RNLI and Wicklow Mountain Rescue. As kayakers we rely on their services all the time and as part of the ball this year we would like to show our appreciation to both organizations by raising money on the night through our raffle (which also has some pretty awesome prizes if I do say so...)
Once you've stuffed yourself silly, it's only natural that you'll want to roll the tables back for a couple of hours of throwing outrageous moves to the great tunes supplied by our superstar DJ.
If this pretty amazing description hasn't convinced you that this is the event you don't want to miss this year then I'm afraid we can't be friends anymore :(
Can't wait to see y'all there
Yours sincerely
Morcan LcDonnell
Agenda
9:45 AM - 2:30 PM
Sluicey Saturdays
6:00 PM - 2:00 AM (+1 day)
The main event