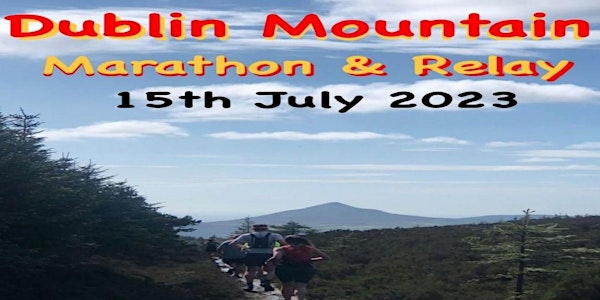 The Dublin Mountain Marathon & Relay
The Dublin Mountain Marathon & Relay is a 42km mountain-trail run through the Dublin mountains. Saturday 15th July 2023 Glencullen - Dublin
When and where
Location
Johnnie Fox's Pub glencullen Glencullen Ireland
About this event
Distance 42km
Relay - is two people running as a TEAM and will cost €65 between the two and selected as 1 ticket at checkout
Single - is one person running as solo runner and will cost €55
Cut off will be 8 hours
The Dublin Mountain Marathon & Relay is a 42km mountain-trail run through the Dublin mountains.
Starting at DMRC Basecamp Glencullen and finishing at the Dublin Mountain community center Glencullen at the Stars of Erin GAA Club playing Grounds.
Taking in some of the most breathtaking views within the Dublin mountains while overlooking Dublin City.
The Dublin mountain marathon will be held at Glencullen Mountains range within the Dublin mountains (Irish: Gleann Cuilinn, meaning "valley of the holly, The highest point of the area is at a height of about 300 metres (980 ft), making Glencullen one of the highest villages in Ireland it will also cross into Tibradden woods Cruagh woods & Ticknock before returning to Glencullen
There is a two Person relay option available
Two people can choose to run the course, You can change over at 21km
this will be the halfway point.
***cut off is 8 hours***
The Dublin mountain marathon is a non profit event in support of the Dublin Mountain Community Center,The Stars of Erin GAA club & The Dublin Mountain Running Club.
***This Event is non-refundable***