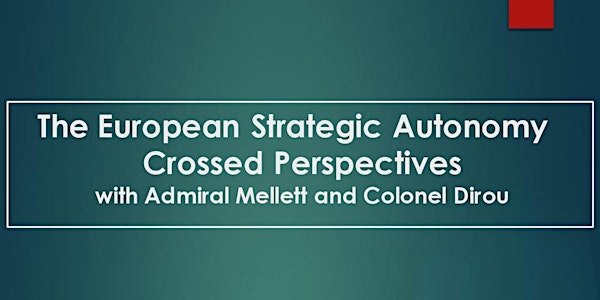 The European Strategic Autonomy: Crossed Perspectives
Event Information
Location
UCD Sutherland School of Law (A&L Goodbody Theatre L023)
University College Dublin, Dublin 4
Belfield
Ireland
Exchange about the European Strategic Autonomy between two high calibre Irish and French personalities from a defence background
About this event
La Fabrique Défense is a unique initiative seeking to develop a European strategic culture among the European youth community. It will take place for the first time in Ireland at University College of Dublin (UCD) on 24th January 2022. In 2020, with over 14,500 participants in Europe, 154 partner organisations involved, and 80 events organised in about fifty European towns, La Fabrique Défense's first edition was an undeniable success. Now, it is happening in Ireland too!
The Irish event's theme will be The European Strategic Autonomy: Crossed Perspectives. The issue of conflicts worldwide, and more implicit conflicts affecting Europe, implies a broad understanding of how societies and countries interact, including how they view the use of their armed forces. There is a necessity to understand how governments develop their defence capabilities at national and European levels and how the governments and societies perceive the role of their defence forces in the face of the different threats (e.g. climate change threat, terrorist threats, traditional security threats etc.). Against this backdrop, several questions arise in the EU context. Does the EU have the means to ensure its security? What could be the role of the EU in respect of the Member States' sovereignty? How can the EU encourage its citizens to feel more concerned about their security? What are the common threats?
Admiral Mark Mellett, former Chief of Staff of the Irish Defence Forces
and
Col. Armel Dirou, Deputy Head of Defence Strategy, French Ministry of Defence
will exchange their perspectives on these matters to address these questions. The student audience will have the possibility to ask questions and share their views with the speakers in a Q&A session.
The event aims to stimulate debate on these strategic issues and raise awareness about the EU collective security among young European citizens. The event is mainly aimed at UCD masters and senior undergraduate students of all disciplines and interested students from other universities.
The event will also coincide with the start of the French Presidency of the EU. The French Ministry of Defence and the Embassy of France in Ireland organise the event in partnership with UCD College of Social Sciences and Law, UCD Sutherland School of Law and UCD School of Politics and International Relations.
Registration is open on Eventbrite here until Friday 21 January 2022 at 12.00 noon. Attendance at this event is primarily in person (see location). However, a Zoom link will be communicated to those who would like to attend online. Attendees will be asked to firmly confirm that they will attend in person.
The event will be held under the framework of UCD principles on academic freedom. UCD has a statement on academic freedom, which is available here. Under Irish Law, academic freedom is defined in the Universities Act 1997, which states that: 'A member of the academic staff of a university shall have the freedom, within the law, in his or her teaching, research and any other activities either in or outside the university, to question and test received wisdom, to put forward new ideas and to state controversial or unpopular opinions and shall not be disadvantaged, or subject to less favourable treatment by the university, for the exercise of that freedom.'
Covid Guidelines
Participants will be asked their COVID Certificates by the Student Ambassadors assisting with the event. Participants must wear a face mask at all times in UCD buildings (when moving through buildings, in corridors and on stairwells, queuing for any reason, using toilet facilities etc.). In all circumstances, participants must comply with UCD Covid19 guidelines available here.Because of the Covid circumstances, no catering will be provided during the event.
While this event is primarily held in person, it will be possible to attend online (hybrid event). A Zoom link will be communicated in any event to registered guests.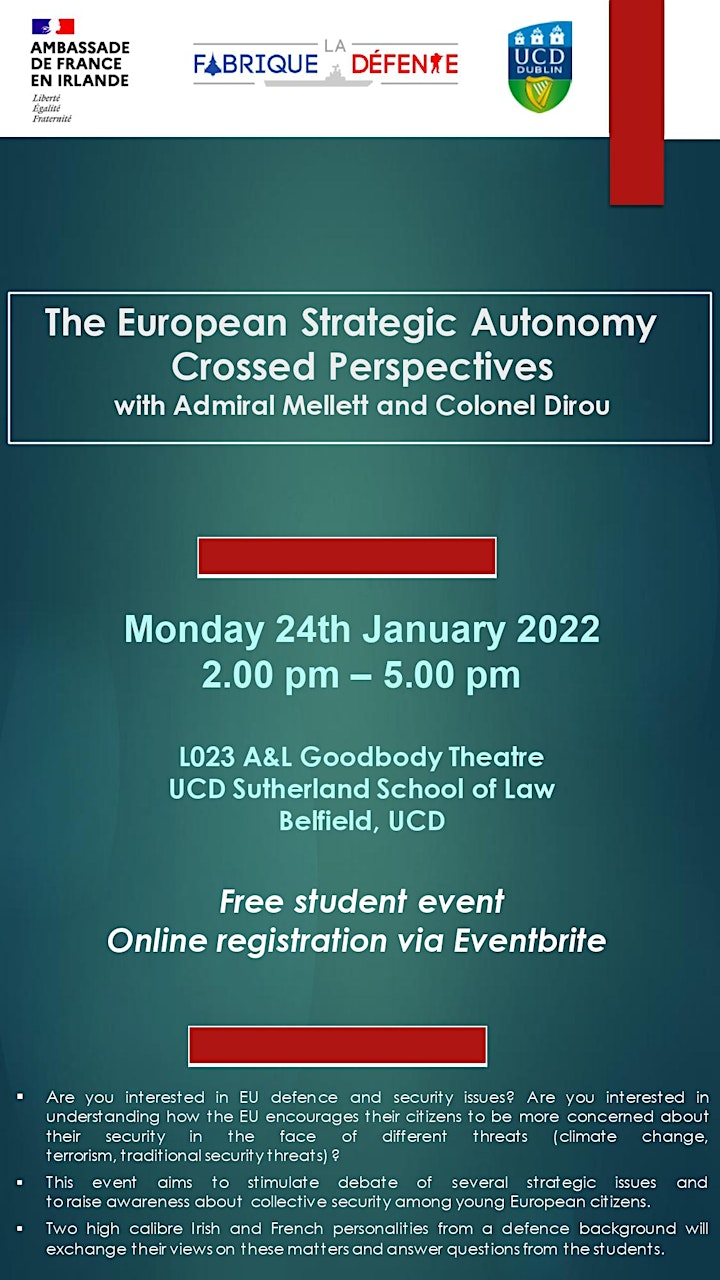 Date and time
Location
UCD Sutherland School of Law (A&L Goodbody Theatre L023)
University College Dublin, Dublin 4
Belfield
Ireland