Description
The Flow State is a podcast about poetry and creativity.
Interviews, processes, prompts and roundtable chats, followed by an open mic.
Presented by Colm Keegan and recorded at Tallaght Library in association with HeadStuff.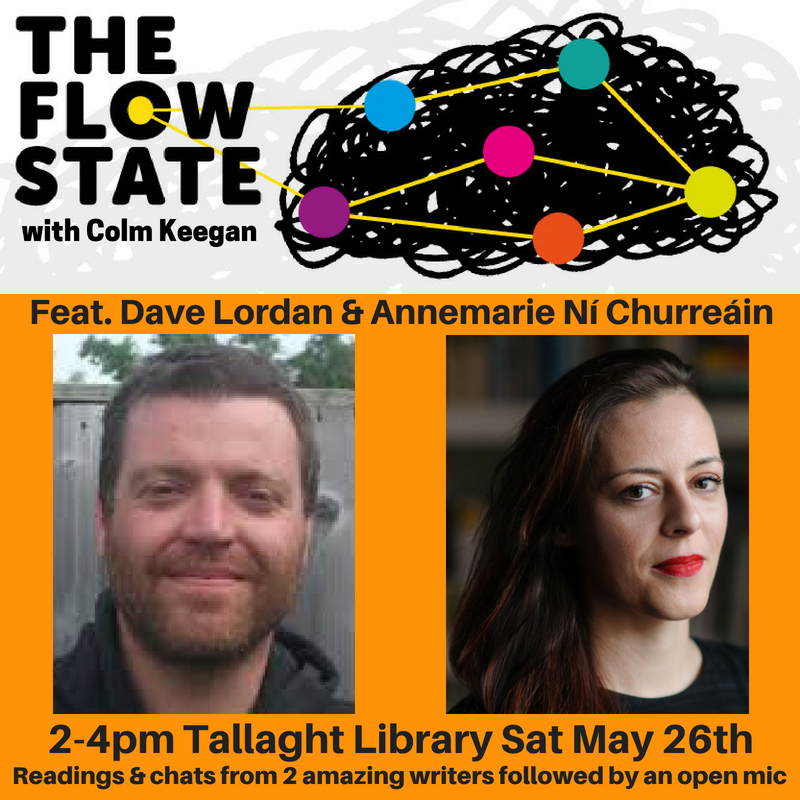 Our May show will feature Dave Lordan and Annemarie Ní Churreáin.
The show will take the form of an interview and reading from Dave, an interview and reading from Annemarie, a short prompt-led open-mic slot, followed by a round-table discussion between Colm, Annemarie and Dave.
The podcast will be recorded with a live audience in Tallaght Library 2 - 4pm Sat 26th May.

If you'd like to read/perform at the open mic slot on the day contact theflowstatepodcast@gmail.com

This is a free event. Open to all. Book now as places are limited.
About the Guests:
DAVE LORDAN is a multi-genre writer, performer, editor, and educator. He has been described as Ireland's most vital and courageous poet, and a performer of electrifying intensity. Lordan provides a portal to the inspirational power of the spoken and written word, and is currently one of Ireland's leading educators in creative writing.
ANNEMARIE NÍ CHURREÁIN is a poet from North West Donegal. She has been awarded literary fellowships by Akademie Schloss Solitude (Germany), Jack Kerouac House (Florida) and Hawthornden Castle (Scotland). Her work has been published in Poetry Ireland Review, The SHOp, The London Magazine, Agenda Poetry Journal and The Stinging Fly.In 2016. BLOODROOT is her debut collection.