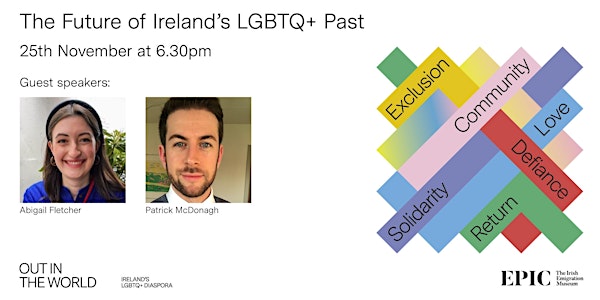 The Future of Ireland's LGBTQ+ Past
Join us online on Thursday 25 November for a fascinating discussion about the future of Ireland's LGBTQ+ past.
Refund Policy
Contact the organiser to request a refund.
About this event
What stories from Ireland's LGBTQ+ history remain to be told? What sources can we use to tell them? Where and how will these stories be shared? Dr Maurice Casey, DFA Historian in Residence at EPIC The Irish Emigration Museum, will be joined by Dr Patrick McDonagh and Abigail Fletcher for a discussion about the future of Ireland's LGBTQ+ past.
This event is part of our lecture series for our new exhibition Out in the World: Ireland's LGBTQ+ Diaspora. Registration is free. We welcome a €5 donation to ShoutOut, our charity partner for this series.
Patrick McDonagh is the author of Gay and Lesbian Activism in the Republic of Ireland, 1973-93 (Bloomsbury Academic). His research primarily focuses on gay and lesbian activism in the latter half of the twentieth century in Ireland. He obtained his PhD in History from the European University Institute in 2019.
Abigail Fletcher is a PhD candidate, tutor, and Justin Arbuthnott scholar at the University of Edinburgh. Her doctoral project examines the relationship between the state, society, and sexuality in Northern Ireland from partition in 1921, to the 1982 decriminalisation of male homosexuality. She has also produced research on LGBT activism in Northern Ireland 1982-2002.