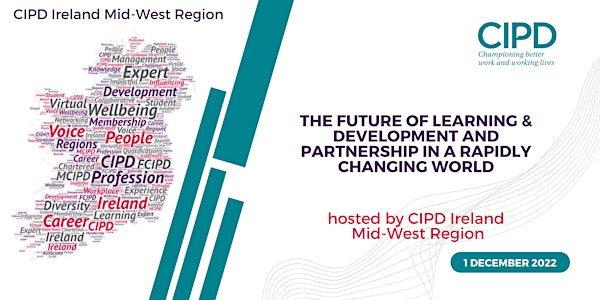 The future of Learning & Development and Partnership
The future of Learning & Development and Partnership in a rapidly changing world hosted by the CIPD Ireland Mid-West Region
When and where
Location
Radisson Blu Hotel Ennis Road Limerick Ireland
About this event

Join us on Thursday 01 December for the CIPD MID-West Region Event "The Importance of Learning & Development and Partnership in a rapidly changing world".
This event will be a facilitated panel discussion with guest speakers Noel Galvin, Senior Vice President, Global Lead CIS Learning & Development at Northern Trust, Dr James Ring CEO Ingenium and Marie Gleeson, former Naval Officer and External Affairs and Stakeholder Liaison Lead, Simply Blue Group.
The event will be an interactive and dynamic session. The speakers will share their experience and insight into maximising human performance and leadership within organisations through the integration of Corporate Strategy, a tailored L&D suite of programmes and Executive Coaching. They will discuss the collaborative approach taken by Northern Trust and Ingenium to co-create a bespoke L&D solution through development of a partnership anchored in trust. They will also bring their unique insights into leading in a rapidly evolving organisational landscape.
Event Schedule:
18.00 Registration and Networking
18.30 Welcome and Introductions
18.45 Facilitated Panel Session
19.30 Q & A Session
20.00 Finish
About our Speakers:
Noel Galvin, Senior Vice President, Global Head Asset Servicing Learning & Development, Northern Trust Ireland
Noel Gavin joined Northern Trust in 2006 and is based in their Limerick office; he is a Senior Vice President and leads the Asset Servicing Learning & Development group, with responsibility for delivering learning and development programs for 14,500+ employees across the companies' global footprint. He has over 20 years industry experience with various role across project management, operations management and leadership.
He holds a BA in History (2000), a Master's in Business Administration (2011) and Professional Certificate in Law & Governance for Pension Trustees (2019)
Marie Gleeson, Former Naval Officer and External Affairs & Stakeholder Liaison Lead Simply Blue Group
Marie served for over 20 years in the Irish Navy. She served as Captain of the LE AOIFE and overseas with the United Nations in Chad. She founded NavMar Leadership on leaving the Naval Service, a bespoke leadership consultancy delivering Executive Coaching and leadership courses to public and private sector organisations. She is a speaker in the areas of leadership, resilience, and communication in high performance environments. She recently joined Simply Blue Group, an Irish Blue Economy projects developer as their External Affairs and Stakeholder Liaison Lead.
Marie holds a MSc in Human Resource Leadership, a PostGradaute Diploma in Corporate Governance, a Higher Diploma in Personnel Management and a BSc (Hons) Anatomy and Physiology and a range of Military qualifications including the Senior Command Operations Course, the Naval Watchkeeping Certificate and is a gradate of the Naval College.
Dr James Ring, CEO Ingenium
James, an environmental scientist by profession, has 15 years' senior executive experience in the public, private and not for profit sectors, now specialising in the provision of consultancy and advisory services in strategy, ESG, change management, culture, and leadership development. James has led multiple major change processes and specializes in the development of transformational culture change in organisations. Senior consultant and CEO of Ingenium since 2018, James works in partnership with leading national and international organisations and SMEs, working closely with C-Suite level executives, delivering continuous improvement in people and teams through change and development programs, as well as a range of strategic development and business performance improvement programs.
James was previously the CEO of Limerick Chamber and Limerick Civic Trust, a project manager in University of Limerick and the education executive for IBEC. James holds a PhD in Environmental Chemistry a Masters of Business Administration, a BSc (Hons) Environmental Science and a National Certificate in Environmental Analysis.
Please note
Photography and video production may take place at the event and these images may be used on future promotional materials for CIPD. Please note that by attending the event, you are giving your consent for your image to be used on any CIPD promotional materials.
For your security and peace of mind, CIPD and its subsidiaries will not supply your details to any organisation for marketing purposes. By submitting this request you confirm that you agree to the use of your information as set out in CIPD's privacy policy. We reserve the right to include your name in a list of delegates at the event.
Non-members may click here to sign up to receive our e-newsletters which will keep you up-to-date with HR news in Ireland as well as CIPD Ireland events and survey research.
Cancellation Policy:
If you are unable to attend, please cancel your booking so that it can be released and made available to members on the waitlist.