Event Information
Location
Public Theatre
Parliament Square
Trinity College
Dublin
Ireland
Panel Discussion on British-Irish Relations post-Brexit and and Keynote Speech by Chief Justice Frank Clarke on the Future of Common Law
About this event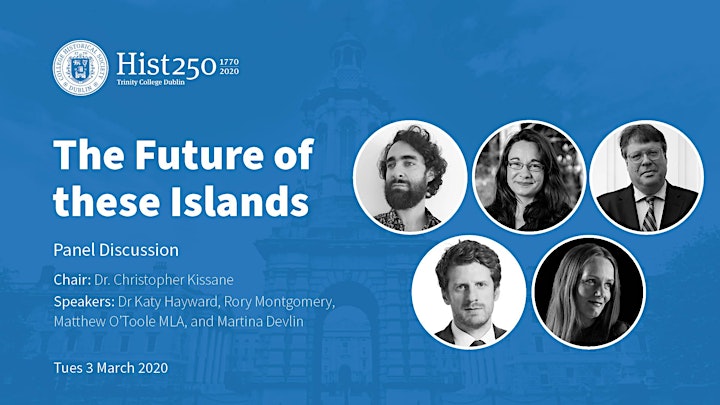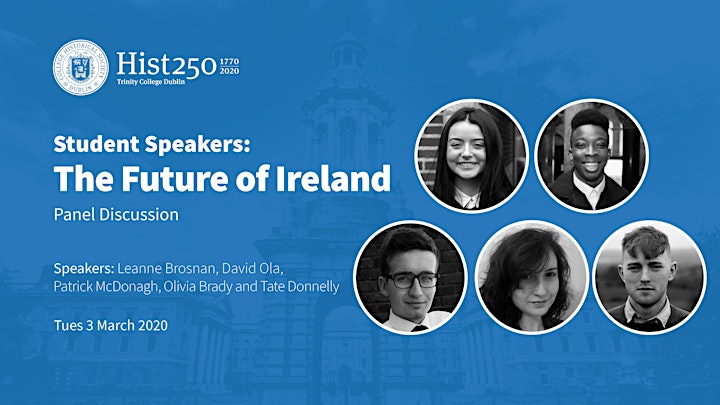 The Future of these Islands: Peace, Reconciliation, and a Shared Future
18.45 Panel Discussion: The Future of These Islands
19.45 Student Speakers: The Future of Ireland
20.30 Keynote Address: The Future of the Common Law post-Brexit, Chief Justice Frank Clarke
On Tuesday 3 March the Hist will host three back to back discussion events on the Future of these Islands. Ticket guarantees a seat at all three.
The events will focus on Irish identity, North-South engagement and any potential changes that would impact its law, culture, identity, politics, and government. Student speakers will offer their vision for the future of these islands. There will also be an opportunity for audience participation.
Panel One will look at the Future of these islands, and will be moderated by Dr Christopher Kissane and speakers include Dr Katy Hayward, Martina Devlin, Rory Montgomery, and Matthew O'Toole. This event will go beyond the Brexit discussion to find solutions for creating a shared future on the island. The New Decade Agreement will naturally be one of the focuses of the discussion.
This event will be moderated by Dr Christopher Kissane and speakers include Leanne Brosnan, (President of the European Youth Parliament Ireland), David Ola (Chief Scientist at PathoVi), Patrick McDonagh (Expert witness to the Seanad Public onsultation Committee Report on Travellers), Olivia Brady (pro-Censor of the College Historical Society), and Tate Donnelly (founder and Chair of Trinity Young Greens). Each student will give their personal experiences, opinions, and perspectives to the question of Ireland's future.
Finally, the Hist is honoured to present a keynote address by Chief Justice Frank Clarke on the future of the common law post Brexit as part of the Hist250 Celebrations. This session will be chaired by the Rt Hon Sir Donnell Deeny, former member of the Court of Appeal of Northern Ireland, and will feature introductory remarks by Dr. Andrea Mulligan of Trinity's School of Law.
At this historic juncture for Ireland, in our relationship with both the United Kingdom and the European Union, it is particularly important that we consider the impact of the Common Law system on how laws are made, and on wider society. Our relationship with the jurisdiction in Northern Ireland is also relevant, as is how the Common Law may evolve through a more continental European Union post-Brexit.
All welcome. Dress Code: Smart. Doors Open: 18.30.
Date and time
Location
Public Theatre
Parliament Square
Trinity College
Dublin
Ireland