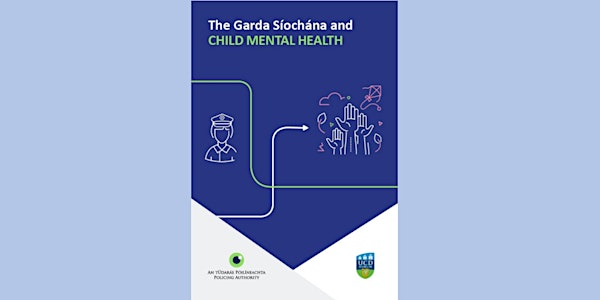 The Garda Síochána and Child Mental Health
The pathways to child and adolescent psychiatric care via the CJ system from the perspective of AGS, medical staff & Social Workers
Refund Policy
Contact the organiser to request a refund.
About this event
'The Garda Síochána and Child Mental Health: An investigation of pathways to crisis mental health care' report has been published by the Policing Authority. This research was conducted by Professor Fiona McNicholas and Dr. Louise Rooney, Department of Child and Adolescent Psychiatry, UCD School of Medicine and Dr. Deirdre Healy, UCD Institute of Criminology and Criminal Justice, Sutherland School of Law, University College Dublin. This is the second of two pieces of research funded by the Policing Authority's inaugural Research Bursary Scheme in 2019.
In collaboration with the Policing Authority and the research team, the Association for Criminal Justice Research and Development Mental Health and Juvenile Justice Working Groups will host an online seminar. Dr. Louise Rooney will present this webinar, which will be chaired by Helen Hall, Chief Executive, Policing Authority. The event will take place from 5.30 pm to 7 pm on Wednesday, 1st December, 2021.
Further details are available at www.acjrd.ie.