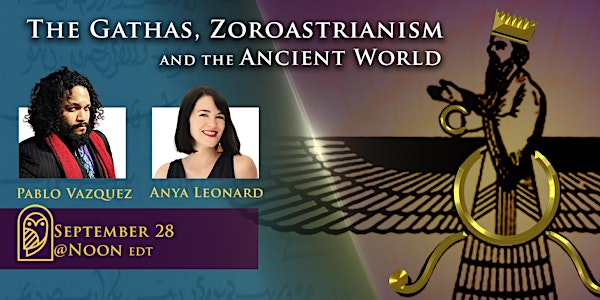 The Gathas, Zoroastrianism, and the Ancient World
Understanding Zoroastrianism: What was its essential role in ancient history and its lasting legacy today?
Refund Policy
Contact the organizer to request a refund.
Eventbrite's fee is nonrefundable.
About this event
Though it was the largest religion in the ancient world by both the number of adherents and geographical scope, Zoroastrianism is still vastly understudied in religion, history, and especially classics.
What is Zoroastrianism? How has this Iranian religion impacted the Classical World? And why is one of the world's oldest organized faiths so often over looked?
Join Pablo Vazquez, a noted scholar of and convert to Zoroastrianism, as he provides an introduction to one of the oldest continuously practiced faiths in history, how the faith influenced the ancient world, and what it is like today.
Central to this will be the Gathas and the Old Avestan texts which are said to be composed directly by the religion's enigmatic founder, Zarathushtra, and thus form the core of Zoroastrianism.
Taking place on Wednesday September 28th at NOON EDT
Can't join us on the day? Register in advance and we'll send you a recording of the event.
This event is brought to you by Classical Wisdom. You can learn more about Classical Wisdom at: https://classicalwisdom.substack.com/
About the Speakers:

Pablo Vazquez, born in Panama and now living in Texas, is a scholar, author, translator, lecturer, and theologian. Currently working on his second graduate degree, Pablo's first degree was a MA in Religions of Asia and Africa from SOAS University of London. While there, he was affiliated with the Shapoorji Pallonji Institute of Zoroastrian Studies where he learned Zoroastrian history, theology, and the Avestan language. Pablo is also unique as an officially accepted convert into Zoroastrianism.
You can pre-order Pablo's book, The Sacred Gathas of Zarathushtra & the Old Avestan Canon: A Modern Translation of Ancient Wisdom, here.

Anya Leonard is the founder and Director of Classical Wisdom, a site dedicated to bringing ancient wisdom to modern minds. Anya majored in philosophy and comparative literature with a minor in the history of science and math at St. John's College in Annapolis, a great books program. She received her MA in Sociology at the University of Edinburgh. She has recently published a children's book, Sappho: The Lost Poetess, dedicated to the life, works and remarkable recent discovery of a poem written by the 7th century Poetess, Sappho. She currently lives in Buenos Aires, Argentina.
You can learn more about Classical Wisdom and our mission to bring ancient wisdom to modern minds here: https://classicalwisdom.substack.com/