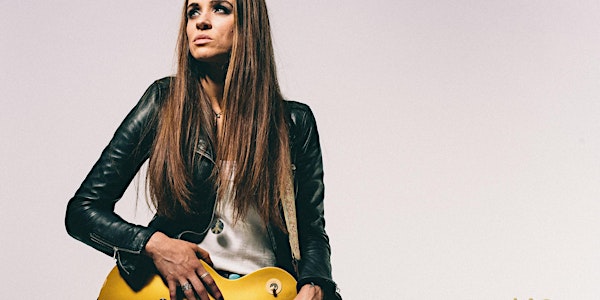 The Grainne Duffy Band
Original Blues , Soul & Country music with a few classics thrown in
When and where
Location
Arthur's Blues & Jazz Club 28 thomas street Dublin Ireland
About this event
Grainne Duffy was born in Castleblayney, Co. Monaghan, Ireland and raised in a family of seven. As a schoolgirl she sang in her local choir and also in a family band with her sisters. The band was bred from their love of music, which Duffy accredits to her mother. Not having a television in their home when they were young, her mother instead allowed them to own a family record player, on which they all were encouraged to get a record on their individual birthday's and Christmas. This broadened their interest in music and they began listening to artists such as Aretha Franklin, The Pretenders and The Rolling Stones. Around that time Grainne discovered Fleetwood Mac and the blues playing of Peter Green, whom she cites as one her main guitar influences. Previous to her solo career Grainne Duffy obtained a degree in music at NUI, Maynooth, Ireland and took part in session work singing with various bands across Italy and France.
At Glastonbury Festival (Professional career 2007-2011)
During 2007 Grainne Duffy embarked on her solo career. The same year she released her remarkable debut album "Out of the Dark" – proof talent that was rising at an impressive rate. The big success of the album led Duffy to play 3 days on the Acoustic Stage at Glastonbury Festival in UK (2008). The same year she performed support to major acts including Robben Ford and The Yardbirds. In 2009 BBC approached Duffy to record a track for a TV promotion campaign in George Martin's Art Studio in London. Later in that year she appeared on the very popular Irish TV show "Other Voices" and receives huge admiration for her performance. This was followed up with her becoming an opening act to artists such as Little Feet and Paul Brady. 2010 marked her participation at leading blues festivals in Ireland such as Warrenpoint Blues Festival headlined by Van Morrison. During this year Duffy took an important step to expand her career forming the "Grainne Duffy Band" with her line-up consisting of Grainne Duffy (guitar, and vocals), Paul Sherry (guitar, backing vocals), Davy Watson (bass) and Gerry Morgan (drums) She also began to play festivals in the summer circuit in England where was warmly accepted. During 2011 Grainne Duffy released her second album "Test of Time" as a result of her collaboration with the producer Niko Bolas (Melissa Etheridge, Los Lobos). The album received rave reviews. The Sunday Times quoted this is "An Irish blues singer of real integrity". Classic Rock Magazine featured her as an artist and reviewed the album saying 'In this album Duffy is bringing soul to enhance her blues sound and Celtic roots experience.
Worldwide recognition (Professional career 2012-2015)
The release of "Test of Time" and the accompanying official video to the title song further marked the development in a short time of Duffy's reputation in the U.K. During 2012 she became an artist in high demand on the summer festival circuit in UK and began extensively touring in England. The first country outside of the U.K. which took notice of Duffy's huge talent was Norway and in 2012 she appeared at the leading "Skanjevik Blues Festival" and later in October she played for first time the most northern festival worldwide "Dark Season Blues" in Svalbard – almost at the Arctic Pole.2013 confirmed the growing reputation of Duffy and she began her first concerts on the European Continent with festivals in Bulgaria, Holland, France and Belgium. She also gained local recognition in Ireland headlining her home festival "Harvest Time Blues" in September in her natice Co. Monaghan. The next 2014 she continued this trend as she executed her first tour in Germany as well more tours in UK and Ireland. July saw Grainne earn huge success at Blue Balls Festival around Lake Luzern in Switzerland, also at one of the biggest festival in France "Cognac Blues Passion". She also performed alongside some of the leading blues artists such as Keb' Mo' and Rival Sons at the biggest blues festival in Europe – "Notodden Blues Festival". This was followed up with festivals in Italy and Holland. All of which leads to her deserved recognition, by the end of the year Duffy was voted "Best Vocalist" and "Best Artist" in the Blues Matters Writers Poll. In 2015 Duffy's name is known already outside of Europe and during July she began touring for first time in Canada playing the leading "Tremblant International Festival". After the tour "Maple Blues" calls Duffy "top artist. September saw her playing her 1st ever concert in Africa at "Tanjazz Festival" in Morocco.The same year the German label M2-Music releases the album "Grainne Duffy: Live" recorded while she had been on tour in Germany. She repeats the achievement from the previous year being voted again for "Best Artist" and "Best Female Vocalist" in Blues Matters Writers Poll for 2015.
Current career (2016 – recently)
Such tours in Europe and Canada as well her leading festivals achieve great international success for Duffy with recognition for her as a stellar artist increasing across Europe. Spring 2016 sees Grainne recording an album with the producer and film composer Justin Stanley, known for his work with leading artists including Sheryl Crow, Eric Clapton and Jeff Beck and working on the music to the very successful movies "Lost in Translation" and "Blow". The session takes place in Los Angeles and includes collaborations with musicians such as Aaron Sterling, Shawn Davis, Doyle Bramhall II, Tyler Chester and Aaron Redfield. Such recordings are followed up festivals in Norway, Canada, Morocco, UK and Ireland. The end of 2016 see Duffy on tour for her first time in Australia at the well-known "Woodford Folk Festival". February 2017 she is among the leading artists to be asked to take part in the renowned Mahindra Blues Festival in India sharing the stage with Billy Gibbons (ZZ Top), Lance Lopez (Supersonic Blues Machine), Shemika Copeland and the new arising guitar star Eric Gales for the final festival concert. In April 2017 Duffy released the single "Where I Belong" produced by Justin Stanley. The official video supporting the single becomes "choice of the week" of Vents Magazine, UK and Ditty TV in USA. During September Duffy released her long waited 3rd studio album with the same name – "Where I Belong". The songs are composed by Duffy in collaboration with Paul Sherry and Justin Stanley. Her finely crafted lyrics are on full display on this release. The album achieves rave reviews in the specialized press Blues News Norway, Blues News Germany, Blues Matter UK and by many radio presenters in UK, including Bob Harris and Paul Jones from BBC. Duffy played a live session for the very popular Harris's TV show "Under The Apple Tree" and conducts numerous interviews and live sessions for BBC broadcasts in London, Liverpool, Bristol, Scotland and Ulster. The album is officially released at a concert in "Nells Jazz & Blues Club", London, with high praise reviews by "Blues in Britain" and "Get Ready To Rock"
In the winter of 2018 Grainne Duffy performed a supports tour for Paul Carrack (Mike & The Mechanics) during his UK tour. Her performances enjoy wondrous success. "Midlands Rock Magazines" reviews her set in Birmingham and quotes: "A very talented individual who is trying to forge her way in the though musical world"; while Liverpool Acoustic does not hide the huge admiration exclaiming "that Ireland's Grainne Duffy could come into the lives of the Liverpool audience and simply blow them away with her charm, depth and voice".(Birmingham Review)
In April 2018 Duffy recorded a live session for Keep it Country for Sky TV
doors 9 music 10-12 entry 10euro