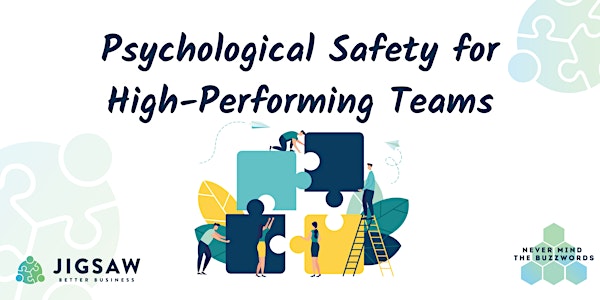 The High-Performing Team's (Not So) Secret Weapon
Psychological Safety is a key component of a high-performing team. In this session, we'll cover how you can create it in your own team.
About this event
If you want to go fast, go alone. If you want to go far, go together.
Teams are essential to a business's longevity and success, but how can we ensure our teams are performing at their best more often?
One key factor that differentiates high-performing teams is Psychological Safety.
This is when people feel comfortable showing up and being themselves, speaking up with new ideas, taking interpersonal risks and not feeling afraid of being blamed, shamed, or ridiculed. This unlocks a team's potential for innovation, growth, and learning.
Not only is this important for achieving outcomes, but also helps each individual to feel more engaged and committed to their work.
In this session, we'll cover what psychological safety is, what it's not, how to achieve it, and how to overcome potential pitfalls that may get in the way. You'll come away from it with ways of assessing your team's current culture, and some steps to take to improve it.
Join us if you would like to…
Improve your understanding of what it means to be a high performing team
Learn about Psychological Safety
Identify strengths and areas for improvement in your own team
Come away with some ways to measure and improve on your own team culture
Connect and share ideas with some like-minded people
You can register here to get the Zoom link - https://us02web.zoom.us/meeting/register/tZcrcO6vqzkrGdetTvwVmGF8r7D7BPmidyWa
Never Mind the Buzzwords
This event is part of our group, "Never Mind the Buzzwords".Go beyond the jargon and come away from each session with tangible tools, tips, and strategies. It'll be a great space to get food for thought and build your network. To stay in the loop on similar future events, you can opt-in to our mailing list at the checkout.
You can also join the group on LinkedIn, where you'll find upcoming events, resources and research, and recordings of previous sessions.
Check out our previous sessions on YouTube.