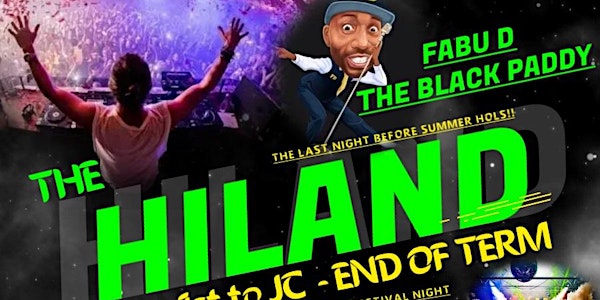 THE HILAND 1st to JC END OF TERM WITH SPECIAL GUEST FABU D / BLACK PADDY!
Location
Safari's Niteclub (The Hiland)
Newmarket
P51CY62 Newmarket
Ireland
Ireland's #1 Teenage Night! With Special celebrity guest FabuD - the black Paddy! …Plus DJ supreme DJ Sully etc
About this event
This is a strictly non alcoholic and non drug event which will be professionally managed and supervised with fully PSA licensed Security Personnel.
Right of admission reserved.
Necessary searches in operation. No exit until event finishes without parental or legal guardian consent and collection has arrived .
Owners and management reserve the right to cancel any ticket. On agreeing to purchase tickets for this event you are also agreeing that security reserve the right to refuse entry to person(s) at their discretion for security reasons and the owner or management isn't in any way responsible.
On purchasing tickets to this event you understand you can't resell the same ticket or tickets at any price above the initial purchasing price. Any persons found to be doing this will have their tickets cancelled without refunds!
Owners and management will not be held responsible for any loss due to purchasing a resold ticket. It's advised be very vigilant and not purchase a ticket from someone else.
Any Already checked in tickets will be refused entry.
All tickets sold are non refundable .
Thank you. Enjoy a great night!
Smile, dance and have fun!