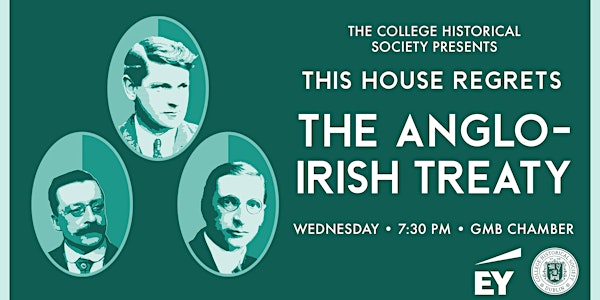 The Hist and DU History Present :This House Regrets The Anglo-Irish Treaty
DU History and The College Historical Society Present : This House Regrets The Anglo-Irish Treaty
About this event
An Conradh Angla-Éireannach. The Anglo-Irish Treaty.
The agreement between the United Kingdom of Great Britain and Ireland and representatives of the Irish Republic that ended the Irish War of Independence and allowed for the creation of the Free State. The Free State became a self-governing dominion, the island was previously split into two by the Government of Ireland Act 1920.
But how should we remember the Treaty? Should we celebrate the achievement of the rebels bringing an empire to it's knees? Is it worth revering the bravery of the signatories - Arthur Griffin, Michael Collins, Robert Barton, Eamonn Duggan and George Gavan Duffy - knowing the losses of the Civil War?
Brother against brother, widow against widow, families split by one treaty and it's impact. Michael Collins asserted that the Treaty was a stepping stone to freedom, but acknowledged while signing: 'I'm signing my actual death warrant.'
Featuring Dr. Patrick Geoghegan, Dr. Mary McAuliffe and Dr. Conor Mulvagh, this debate will focus on the history and impacts of the Anglo-Irish Treaty. An exhibition of portraits, propoganda and posters will be on display in the debating chamber.
Join the College Historical Society and DU History in the Graduates Memorial Building this Wednesday at 7:30pm for a thrilling debate. Tickets go on sale Monday at 12pm.
Organiser of The Hist and DU History Present :This House Regrets The Anglo-Irish Treaty