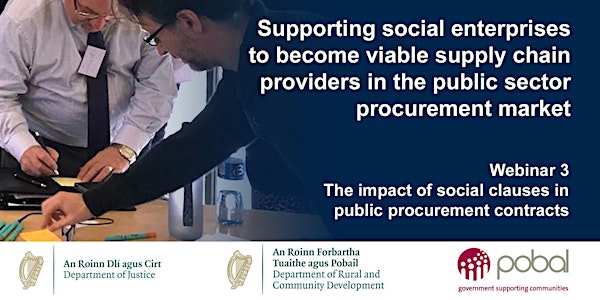 The impact of social clauses in public procurement contracts
This webinar will introduce a number of guest speakers who will talk about the impact of social clauses in public procurement contracts
About this event
Please find joining details below.
Join the webinar: https://us02web.zoom.us/j/84114083549
We will open the online room at 9:50 am, to allow time for you to arrive and get connected before we begin. Please feel welcome to join from then.
A few other practical guidelines:
• We recommend participating on a computer rather than a tablet or phone, to have the full experience of engaging with the presentations and the whole group
• We warmly invite you to come prepared to share your own video and audio in order to support good connection & discussion on the day
This Webinar will explore the impact of social clauses in public procurement contracts with case studies from those who have experience of them.
Attendees will hear the Government's commitment to their introduction, the plan for implementation as well as some lessons learned from the New Children's Hospital experience.
Speakers will include Derek Flanagan from the Office of Government Procurement, Kris Bryson the Partnerships Director at Wildhearts Group and Ingrid McElroy who was involved with social procurement at the New Children's Hospital.
There will be a round-table discussion involving the speakers moderated by Siobhán Cafferty and a Q&A session will round off the event.