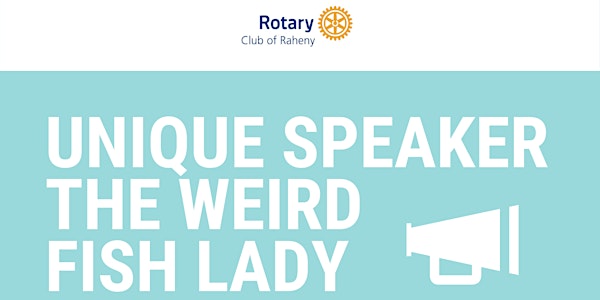 The Importance of the Oceans by Gloria Barnett, Raheny Rotary Fundraiser
Gloria Barnett will be storytelling of all of her adventures in a fundraising event for Raheny Rotary on the 8th of March @8:00pm 2021.
About this event
Raheny Rotary have been coming up with new and innovative ways to fundraise this year, as an alternative source of charitable funding, we are organising a sponsored webinar, reflecting Rotary's commitment to the environment.
We have invited Rotarian Gloria Barnett to speak at this event on Monday, February 8th 2021 at 8pm. Her subject is "The Importance of the Oceans". This will be a stimulating and very enlightening presentation by this renowned ocean adventurer, scuba diver, film maker, scientist and educator.
Since the Rotary Club of Raheny was inaugurated in 2018 it has provided support to local organisations such as a special school in Kilbarrack, provision of medical equipment for local hospitals and hospices, refugee families, school equipment for the Lebanon, 'Shelter Boxes' for disaster areas, support for Mothers and Children in Madagascar, and support for Rotary's Seventh Area of Focus, the Environment, including tree planting involving primary and post primary students and their communities. That area of Rotary focus is particularly important for the United Nations Decade of Eco-restoration 2021-2031.
A major source of funding in the initial years have been public collections, notably bucket collections in local supermarkets, but these sources of income are not possible currently, due to the Covid 19 pandemic.
We would like you to contribute by sponsorship or donation. If you or your business would like to sponsor the event, the details are given below.
Sponsorship :
A. €200 – Advertised sponsor plus 10 invitees (10 tickets)
OR
B. €100 – Advertised sponsor plus 5 invitees (5 tickets)
If you wish to attend as an individual, please consider a donation such as €5 or €10 per person.
If you would like to make a large donation, or a direct donation to the Rotary Club of Raheny, you are welcome to request our bank details directly; via email; swan.verity@gmail.com
If you need an invoice or receipt, please let us know.
We cannot stress strongly enough our need for funds this year in order to continue the work mentioned at the beginning of this letter. We would very much appreciate your sponsorship or donation and I shall be happy to answer any questions or queries you may have, plus share with you the registration details for the Event.
Thanking you again for your consideration.
Raheny Rotary