Description
Muslim Sisters of Éire (MSOE) will be hosting an Interfaith 'Iftar' Dinner during the Islamic month of Ramadan. Ramadan is integral to the Islamic faith and is highlighted by the abstention from any food or drink from dawn to sunset. It is a month by which Muslims work to cultivate self-discipline, as well as exercise excellence in character. It is a time of great spirituality and connection to God.
At MSOE, we hold the firm belief that it is our communal obligation to establish and maintain strong relationships and friendships with those individuals, who have accepted the responsibilities of leadership in our communities. It is vital that we remind ourselves and our neighbours of the obligation that we have to one another so as to nurture the brotherhood/sisterhood which is vital to the progression and strengthening of our society. Unity is key to the success of any society, and this begins with a willingness to join hands on common ground.
We hope you can join us in breaking bread on this evening as we discuss the importance of unity and the role that we each play in setting aside differences in order to eradicate bigotry and intolerance in our communities.
---
Speakers:
Imam Hussain Halawa - Imam, Islamic Cultural Centre of Ireland
Imam Hussain Halawa originally from Egypt, is the Imam of the Islamic Cultural Centre of Ireland in Clonskeagh. He is also member of the European Council of Fatwa and Research.
Archbishop Martin - Archbishop of Dublin
Archbishop Diarmuid Martin was elevated to the dignity of Archbishop and Apostolic Nuncio and undertook responsibilities as Permanent Observer of the Holy See in Geneva, at the United Nations Office and Specialised Agencies and at the World Trade Organisation. He was appointed Coadjutor Archbishop of Dublin on May 3rd 2003.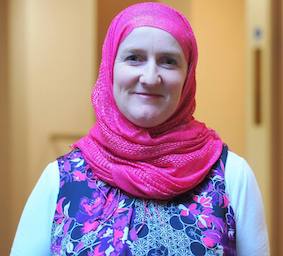 Julie Siddiqi - Interfaith Actvisit, UK
Julie Siddiqi is a mentor, consultant and activist with a focus on gender issues, Jewish-Muslim relations and social action. She is an Advisor for the Jewish led social action project, Mitzvah Day and is a Trustee for Muju, a Jewish/Muslim theatre company now in its tenth year. Julie was the Executive Director of the Islamic Society of Britain from 2010-2014. Julie is Founder and Director of Sadaqa Day, a one day Muslim-led focus on social action, which was launched in March 2015 and is co-chair of the Jewish and Muslim Women's Network, Nisa-Nashim. Her most recent venture is as Founder of Ansar Muslim Volunteering Network launched in December 2016.
Michael O'Sullivan - Dublin City Interfaith Forum
Michael is a member and former Chairperson of Dublin City Interfaith Forum. He also works for the Columban Missionaries as coordinator of their development education programme, and on their justice and peace team.
Sgt. Dave McInerney - Garda National Diversity Bureau
Dr Dave McInerney is Sergeant in Charge of Racial, Intercultural & Diversity Office at An Garda Síochána. He pioneered strategy for policing a rapidly changing multicultural Ireland in 2001 to date through the developing positive relations with minority communities. He is also a lecturer in Ireland and Europe on discriminatory profiling and its negative consequences for police institutions, and application of anti-discriminatory techniques to prevent violent extremism and radicalisation in societies.
MORE SPEAKERS TBC
*NO CHILDREN UNDER THE AGE OF 12 ARE ALLOWED*