Link to Friday Event here The International John McCarthy AI Summer School 2020 - 2 days/8 session/ 1 Incredible Virtual Summer School
About this event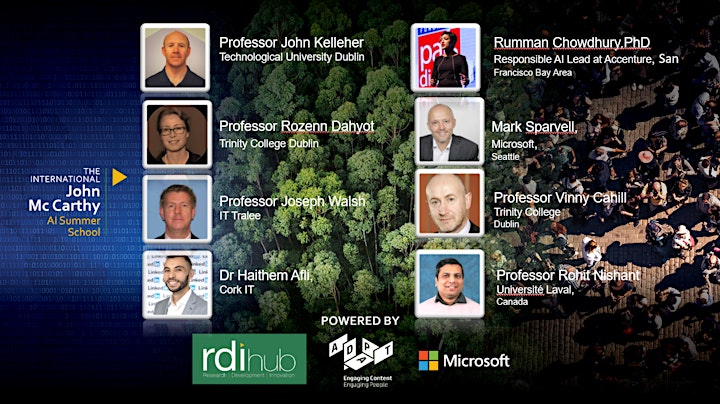 The International John McCarthy AI Summer School 2020
03 & 04 September 2020
Over two days an international panel of Professors and Industry experts from Université Laval, Trinity College, CIT, ITT and TUD Dublin, Microsoft and Accenture will showcase the latest advances in the field of Artificial Intelligence for Sustainable Societies across Education, Agriculture and Smart Cities.
The International John McCarthy AI Summer School audience is Professors; Post-Doc's; PhD Students, Researchers and graduate students in the fields of AI / ML / NLP, Computer scientists who have interests in statistics and machine learning.
The International John McCarthy AI Summer School 2020 is powered by the RDI Hub, ADAPT Research Centre and Microsoft.
John McCarthy was one of the founders of the discipline of artificial intelligence, and his father was born in Cromane, near Killorglin. In the late 1950s McCarthy invented LISP, which became the programming language of choice for AI applications.
What to expect .
Two half days of plenary lectures and Q&A on selected topics presented by leading experts in the field of Artificial Intelligence for Sustainable Societies.
We are delighted to announce a fantastic line up of speakers .
Speakers
Professor John D Kelleher, Co-Principal Investigator at ADAPT Centre and the ADAPT Lead at TU Dublin
Professor Rohit Nishant, Axis leader on Emerging Technologies at CerTIA (FSA Ulaval) , Faculty (MIS) at FSA ULaval, ASAC IS Division Editor. Artificial intelligence for sustainability: Challenges, opportunities, and a research agenda
Professor Rozenn Dahyot, Trinity College Dublin. Sustainable digital twins
Professor Vinny Cahill is currently a Professor of Computer Science at Trinity College Dublin. AI for Sustainable Cities / Smart Cities
Rumman Chowdhury, PhD, Accenture. Responsible AI and the Covid-19 Pandemic
Dr Haithem Afli, NLP/ML Lecturer | SFI Funded Investigator | team leader | PI at Cork Institute of Technology. Social Media and User-Generated Content Analysis
Professor Joseph Walsh IT Tralee, Head of the School of STEM and Head of Intelligent Mechatronics and RFID (IMaR) Research Centre at the Institute of Technology, Tralee (ITT), Co Kerry, Ireland. AI for Sustainable Agriculture 
Mark Sparvell - Microsoft, Seattle - AI from Science Fiction to the Science Classroom  
For more information contact reidin.oconnor@rdihub.com. In the coming weeks we will make contact with all tickets holders directly regarding registration details for all sessions.
RDI Hub is an environment for startup and corporates to learn and collaborate together to accelerator growth based in the South West of Ireland.