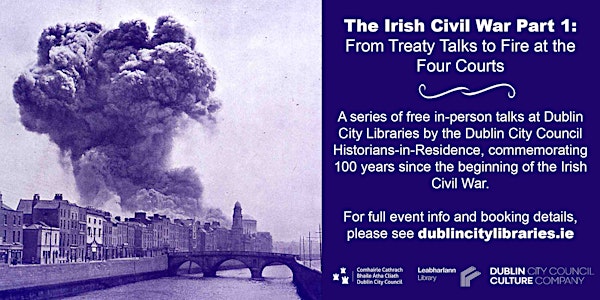 The Irish Civil War Part 1: From Treaty Talks to Fire at the Four Courts
Charleville Mall Library is delighted to host The Irish Civil War Part 1: From Treaty Talks to Fire at the Four Courts by Dr Mary Muldowney.
When and where
Location
Charleville Mall Library. North Strand Road D01 AX99 Dublin 1 Ireland
About this event
This year marks the centenary of the outbreak of the Irish Civil War. To commemorate the event a two-part lecture series on the Civil War will be delivered in Charleville Mall Library by Dr Mary Muldowney, Dublin City Council Historian-in-Residence. This first lecture will discuss the period from the signing of the Angle-Irish Treaty to the Battle of the Four Courts.
Mary Muldowney holds a PhD in History from Trinity College Dublin and a postgraduate qualification in Adult Continuing Education and Training from the National University of Ireland at Maynooth. She is the Historian-in-Residence for the Dublin Central area. Mary is the author of books and journal articles, often based on oral history interviews and she has a particular interest in labour and women's history. She is a member of the Grangegorman Histories Working Group and the organising committee of the Irish Labour History Society and she was a founding member of the Oral History Network of Ireland. She is a frequent consultant on other history projects.
Part 2 of this lecture series 'From Béal na Bláth to the Arms Dump' will be held on Saturday 9 July at 2.30pm. This should be booked separately on Eventbrite.