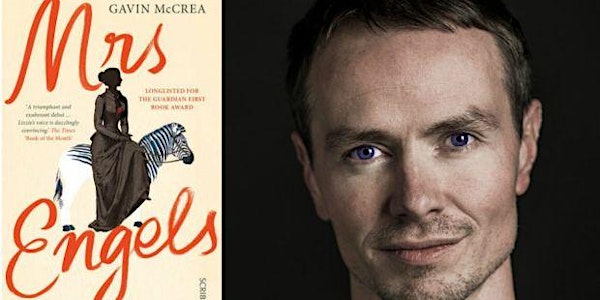 The Irish Times Book Club & Irish Writers Centre present: Gavin McCrea in conversation
When and where
Location
Irish Writers Centre 19 Parnell Square Dublin 1
Refund Policy
Contact the organiser to request a refund.
Description
Date: Thursday 25 February
Time: 7.30pm
Tickets: €5 / €3 | Tickets on the door: €7 | (glass of wine included)
The Irish Times Book Club in association with the Irish Writers Centre present:
Mrs Engels – Gavin McCrea in conversation with Martin Doyle and the Irish Times Book Club
Join us in Parnell Square for an evening of lively conversation as we welcome The Irish Times literary aficionados who will chat to Gavin McCrea about his acclaimed debut novel Mrs Engels which was longlisted for the Guardian First Book Award and is published in paperback on February 11th (Scribe, £8.99).
Note: This podcast will be recorded in front of a live audience so be sure to arrive on time.

About the Book:
Mrs Engels tells the story of two illiterate Irish sisters from a Manchester slum, Anine and Lizzie Burns, who greatly influenced Karl Marx and Friedrich Engels.
Reviews have been extremely enthusiastic. "This whirlwind of politics and personalities might become dizzying were it not stabilised by Lizzie's unmistakable voice," wrote Helen Dunmore in The Guardian. "She begins life by grabbing what she needs in order to survive; she ends it having achieved deep self-knowledge. She tells her own story with a fierce wit and trenchancy, shot through with poetry ... McCrea's fictional speculation makes a fine symphony out of the silence that surrounds Lizzie Burns."

The Spectator called Mrs Engels "an assured, beautifully-written debut, about a woman wiser than her lover perhaps, and slowly growing into herself – reminiscent of Molly Bloom in Ulysses. Eleanor Marx wrote that Lizzie was 'illiterate and could not read or write, but she was true, honest and in some ways as fine-souled a woman as you could meet'. Going by this, McCrea describes her perfectly."
The current issue of the New Yorker, judging Mrs Engels an "incisive" novel, writes of Lizzie: "Illiterate, religious, and from a working-class Irish family, Burns has actually experienced the proletarian existence about which Engels can only pontificate. As she recalls many scarring scenes from her former life, she teeters between accepting her husband's formulations and coming to understand her past on her own terms. The novel outlines a number of radical dislocations – in geography, nationality, class, and even love."
About the Author:
Gavin McCrea was born in Dublin in 1978 and has since travelled widely, living in Japan, Italy and Spain, among other places. He holds a BA and an MA from University College Dublin, and an MA and a PhD from the University of East Anglia. He currently divides his time between Britain and Spain.