Description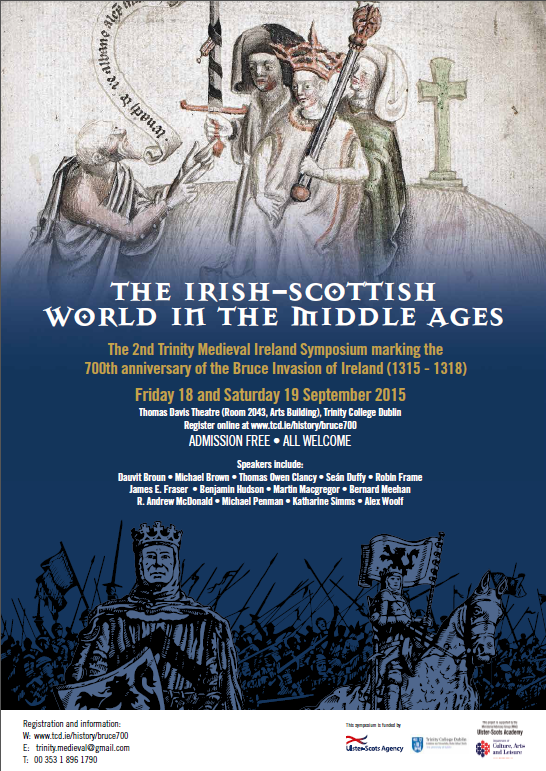 The 2nd Trinity Medieval Ireland Symposium
marking the 700th anniversary of the Bruce Invasion of Ireland (1315–1318)
The 2nd Trinity Medieval Ireland Symposium marks the 700th anniversary of the invasion of Ireland led by Edward, brother of Robert Bruce, Kings of Scots, by exploring the theme of The Irish–Scottish World in the Middle Ages.
Few peoples have as much in common as the Irish and the Scots. The very name 'Scotland' – from Scotia, the 'land of the Scoti' – is an ever-present reminder of that connection, because, in the Latin of the early Middle Ages, a Scotus was an Irishman, and the homeland of the Scoti was Ireland. That the name came to be applied to the northern part of Britain is testament to the strength of Irish influence there, which this Symposium explores.
The links were such that in King Robert's famous letter to 'his friends', the Irish, he reminded them that they and the Scots 'stem from one seed of birth', and offered a permanent alliance against the English, their would-be conquerors, 'so that our nation' – one nation, the Scots and Irish – 'may recover her ancient freedom'. That alliance culminated in the inauguration of his brother Edward as high-king of Ireland in the summer of 1315, which forms the cornerstone of this Symposium.
Do the origins of modern Scotland lie in Ireland? To what extent did the legacy of Colum Cille of Iona define relations between the two regions – in political, ecclesiastical, literary and artistic terms? Is the Book of Kells 'Irish' or 'Scottish'? What was the impact of Viking and then Anglo-Norman attempts at conquest? Did contacts intensify with the recruitment of Hebridean galloglass by the chieftains of Gaelic Ulster and elsewhere or were ancient bonds on the wane as the Middle Ages drew to a close? These are some of the questions this Symposium of leading experts seeks to answer.
FOR ANYONE WHO HAS MISSED OUT ON TICKETS, THE LECTURES WILL BE AVAILABLE VIA PODCAST AFTER THE EVENT. Check out www.tcd.ie/history/bruce700 for more details
Organiser of THE IRISH–SCOTTISH WORLD IN THE MIDDLE AGES SYMPOSIUM
The Trinity Medieval History Research Centre
The Lydon Lectures are organized by the Trinity Medieval History Research Centre. The Centre promotes research into the history of Ireland, Europe and the wider world in the Middle Ages. Our approach to the past is interdisciplinary, with a particular interest in digital humanities. The Centre provides a venue and forum for the interaction and the exchange of ideas among medievalists based in Trinity and Dublin more generally, as well as for distinguished visiting scholars from further afield. In 2013 the centre launched the biennial Trinity Medieval Ireland Symposium (TMIS). The first volume in that series (The Geraldines and Medieval Ireland: The Making of a Myth) appeared in 2016. The second volume (The Irish–Scottish World in the Middle Ages) will be published in 2018.