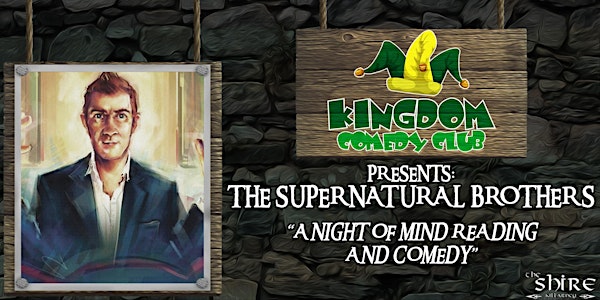 The Kingdom Comedy Club presents... The Supernatural brothers + guests
Location
The Shire
Michael Collins Place
V93 CP26 Killarney
Ireland
This weeks show is full of laughter mystery and intrigue... The Supernatural brothers are mesmeric...
About this event
This week we have a most perplexing and different style of comedy show for your discerning eyes and ears. The evening will kick of as usual with some high quality top class comedians tickling your funny bones in all the right places. The difference this week is our headliner is not your usual run of the mill comic. No not at all. Quite the opposite in fact! Funny as anyone we have ever had thread our boards but this weeks headliner is....perplexing. You'll simply have to come and see for yourself!
A show like no other. Supernatural feats, Predictions, Spirit contact, Mindreading and Paranormal Happenings all wrapped in a rasher of laughter. A must see!