The Listening Crowd, an International Conference Exploring New Music and Au...
Description
The Listening Crowd is a conference examining why we listen, who is listening and how audiences are engaging across genres and around the world. The conference is for anyone who is immersed in music: as an audience member, composer/creator, performer, programmer, promoter, broadcaster, and those who connect through music.
Featuring a host of international and national speakers and panelists, The Listening Crowd aims to stimulate discussion and debate around the relationship between new music and audiences.
Speakers and panelists will include
Kevin Volans, Composer (Ireland) - keynote address
Heather Maitland, Arts Consultant (UK)
David Pay, Artistic Director, Music on Main, (Vancouver, Canada)
Jennifer Walshe, Composer (Ireland)
Lucy Railton, Curator, London Contemporary Music Festival, (UK/Berlin)
Bernard Clarke, Broadcaster, RTÉ Lyric fm, (Ireland)
The conference takes place as part of the International Association of Music Information Centre's (IAMIC) annual meeting and conference, which the Contemporary Music Centre (CMC) is hosting as part of the Centre's thirty year celebrations in 2016. IAMIC is a global network of organisations working to promote and document the music of our time, and as the Irish member of this network CMC is delighted to welcome its international colleagues in music to Galway.
Join CMC and our international colleagues from IAMIC in NUIG Galway on 13 June, for discussion and debate, followed by a live Music Trail on the NUIG campus featuring works by Ed Bennett, Deirdre McKay, Dave Flynn and Jane O'Leary.
Please note that any tickets bought as of Thursday June 9th do not include coffee breaks and the luncheon. This is reflected in the lower rate.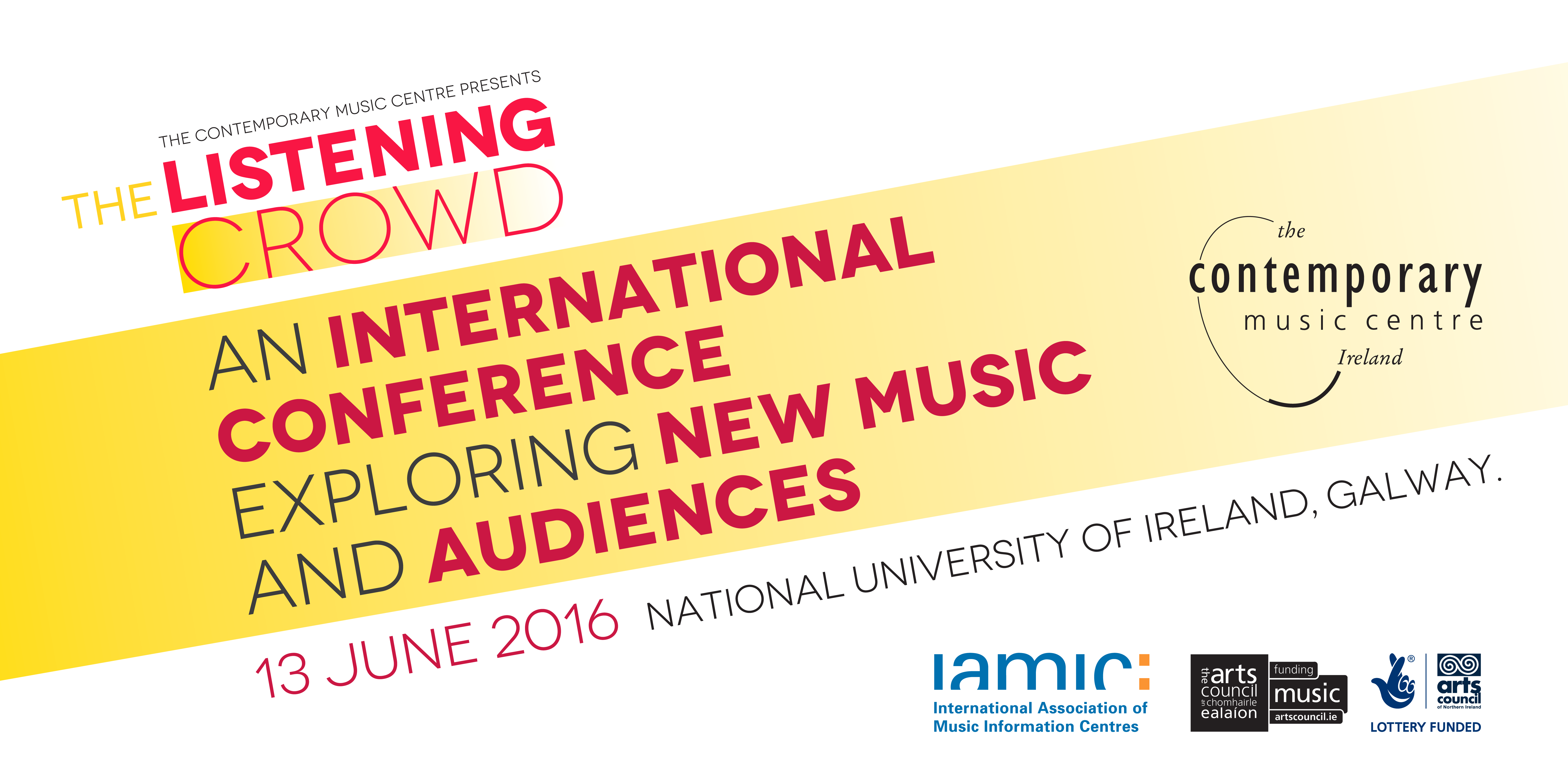 Organiser of The Listening Crowd, an International Conference Exploring New Music and Audiences
The Contemporary Music Centre documents, develops and promotes of Contemporary Music from the island of Ireland, both at home and internationally. CMC meets the needs of a wide variety of interest groups: composers, performers, musicologists, teachers, students and reaches a range of audiences including music enthusiasts, other artforms, children and young people in its support to Contemporary Music. www.cmc.ie 
IAMIC is a worldwide network of organisations working on a non-profit basis to promote and document the music of our time. CMC last hosted the organisation's conference in 2010. The conference this year takes place as the Centre celebrates its 30th year during 2016.