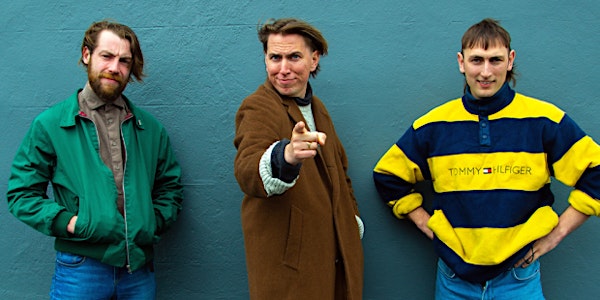 When and where
Location
Cyprus Avenue Caroline Street Cork Ireland
About this event
The Good Room presents:
The Mary Wallopers
The Mary Wallopers release new single Frost Is All Over. The track is the perfect introduction to one of the most exciting bands to emerge over the last few years, a band whose take on traditional Irish music has a raw energy best described as Dead Kennedys meets The Clancy Brothers.
The Mary Wallopers on Frost Is All Over: "Frost is All Over is a traditional Irish song about taking everything in your stride and not caring about what everyone says you should care about. We added the verse about landlords as we feel they are a sensitive sort who need reminding of how much we care about them. It was recorded by Chris Barry in his Dublin studio in 2021. It's an old song made famous by Planxty. The video was shot by Sean McMahon and the set was designed by Mark Sheridan. Sean is from Dundalk like us and has worked on our livestreams before. It was shot in the old AOH Hall in Blackrock, Dundalk, which local music legend Conor Hughes allowed us to use. The video is our way of introducing the new band and how sexy we have become over lockdown. Our home studio/pub was too small to fit everyone in so we had to branch out but still keep it Dundalk."
Frost Is All Over is taken from The Mary Wallopers debut album, due for release in the autumn, when the band head out on a major tour of the UK and Ireland, including a massive London show and a New Year's Eve party in Limerick.
Brothers Charles and Andrew Hendy and their friend Sean McKenna formed The Mary Wallopers as a three-piece ballad group traveling the length and breadth of Ireland singing & collecting songs. Their early live performances exuded a raw energy and their first five track EP - 2019's A Mouthful of The Mary Wallopers - perfectly captured their sound and ethos, one filled with warmth, intimacy, chaos and enough sparks ready to light any fire. The band recently expanded to a seven piece for live performances.
"The Mary Wallopers' trademark charm and irreverence is matched only by their staggering talent" - Hot Press
"The Mary Wallopers invokes the raucous ghosts of the Dubliners and the Pogues to startling effect" - The Guardian
"Best of all was a mischievously brilliant set from Irish band The Mary Wallopers, whose open and gleeful contempt for the audience seems to go by almost entirely unnoticed." - The Independent (at Wilderness Festival)