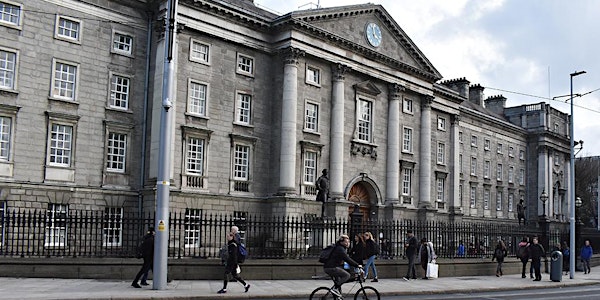 The Menopause Café in Trinity College Dublin
The Menopause Café Come to a Trinity Menopause Café in Printing House Square as part of Health and Sports Week 2023.
Date and time
Mon, 27 Mar 2023 10:00 - 11:30 IST
Location
Trinity College Dublin, Printing House Square College Green Dublin 2 Ireland
About this event
Come to a Trinity Menopause Cafe in Printing House Square as part of Health and Sports Week 2023. The purpose of this event is to offer Trinity staff and students the opportunity to discuss menopause with Trinity academics and practitioners working in the area of menopause and to explore what actions Trinity can take to support people experiencing menopause.
Event Details:Date: 27th March 2023
Time: 10.00am-11.30am
Location: An Mheitheal Seminar Room, College Health, Printing House Square,
Who can attend? This event is for staff and students of Trinity College Dublin.
Speakers for the Menopause café
Dr. Rosie Dillon is an assistant professor and specialist registrar in the discipline of obstetrics and gynaecology in the School of Medicine. She leads on menopause/post-reproductive health teaching for Trinity's medical students. She has a primary care background (she is a trained GP) and undertakes clinical sessions in women's health at Tallaght University Hospital.
Dr. Lisa Lawless is a GP in College Health. She teaches menopause on the ICGP GP training course.
Dr. Annemarie Bennett is an Assistant Professor in the Unit of Dietetics in Trinity's School of Medicine. She qualified as a dietitian in 2011 and has worked in community, public health, research, and third level education. Her interests include the impact of health in early life on disease outcomes in later life and on how health can be improved across all population groups at a national level through public health policy.
Chair: This session will be chaired by Michele Ryan, Head of Learning and Organisation Development in Trinity. She cares about enabling people to be their best selves in work and life. Michele co-authored the Trinity Wellbeing Survey Reports, 2020 & 2022 and is Operational Lead on the Healthy Trinity Workplace Group.
About the event format
- Each speaker will speak for approx 10 minutes
- Light exercise (Deirdre Mullen-McGuiness, Participation Officer, Trinity Sport will lead exercise for 5 minutes)
- Discussion groups with tea and coffee (Aim of the discussion is to give people an opportunity to learn about perimenopause and menopause. Participants offered opportunity to comment or ask a question about anything raised by speakers)
- Mindfulness session (conducted by Karita Saar Cullen – Mindfulness lead and College Health Physiotherapist)
This event is organised by the Healthy Trinity:Sexual Health and Workplace Wellbeing groups.