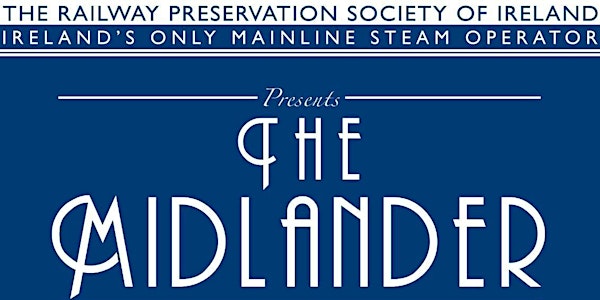 "The Midlander"- Train 1 - Sunday 14th August 2022
CANCELLED - The Midlander - Train 1- 14/08/2022
When and where
Location
Connolly Train Station 1 Amiens Street Dublin Ireland
About this event
This train has been cancelled due to a fire risk in the Dublin area.
The Midlander - Train 1 - Sunday 29th May 2022
Following maintenance work on No. 85 Merlin, we will be operating two "running in" specials with a shorter train this Sunday 14th August 2022. By booking a ticket with us you will be supporting us to cover the cost of the recent maintenance on the locomotive.
***NB***
In the event that the pre-departure tests are not successful, the train will operate with a diesel locomotive to Maynooth and back. Passengers booking on this trip, please be aware that this is a possibility as these are "running in" trains to assess the recent maintenance of the locomotive, of which we cannot do without running a normal train.
Hauled by our famous steam locomotive No.85 "Merlin" we will depart from Dublin Connolly station at approximately 12:00 and travel out through the Dublin suburbs along the Royal Canal to the university town of Maynooth. The amazing sight and sounds of our train will delight young and old.
At Maynooth the locomotive will unhook and run around to the opposite end of the train to return to Dublin Connolly where we retrace our steps along "The Midland".
We have a snack car on board and for the adults a full bar serving draught Guinness and selection of beers, wines, spirits and much more. Great craic is guaranteed.
IMPORTANT INFORMATION RE: ONLINE TICKETS
******Tickets are NON-REFUNDABLE once purchased*****
*****Please note for this train only, there will be FREE seating on board for your return journey, please take any available seat on board*****
You will receive your tickets by email as soon as your booking goes through. These are you tickets which you must either print or save on your phone or tablet for inspection on the day.
Children aged 2 and under can travel free of charge on their parent's lap.
Child Tickets are valid for 3 - 15 year old's inclusive.
Dublin Connolly Dep. 12:00
Maynooth Arr. 12:45
Maynooth Dep. 13:03
Dublin Connolly Arr. 13:45