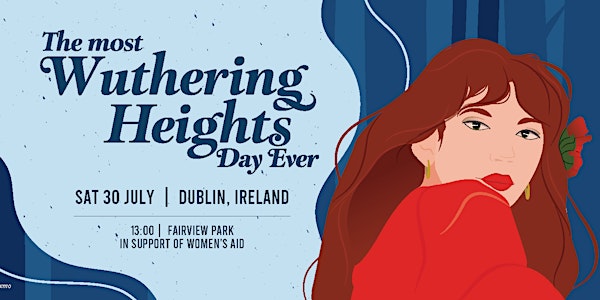 The Most Wuthering Heights Day Ever... Dublin 2022
Join us for out on the wily, windy moors of Fairview Park for our first in-person event in three years!
When and where
Location
Fairview Park Fairview Park Fairview D03 XF90 Dublin Ireland
About this event
Come gather in your finest Kate Bush garb for a group performance of the 'Wuthering Heights' dance routine, as Dublin celebrates 'The Most Wuthering Heights Day Ever' on Saturday July 30th 2022.
Inspired by the 300 Kate Bush impersonators at Shambush's 2013 event in Brighton UK (www.shambush.co.uk Facebook: www.facebook.com/shambush Twitter: @shambushevents), we will recreate the Wuthering Heights experience en masse, allowing for rehearsal time and a picnic.
This year, we are proud to once again support Women's Aid, a leading national organisation that has been working in Ireland to stop domestic violence against women and children since 1974. Find out more at www.womensaid.ie.
Please note that, as in 2019, there is a €5 registration fee. The event is entirely organised and run by volunteers on a not-for-profit basis, but we do need to cover the public liability insurance and some other small costs (like our portaloo, Kate Flush). Any money from registrations left over after costs are covered will be donated to Women's Aid.
We would like to thank Samantha Wareing in Berlin, creator of 'The Most Wuthering Heights Day Ever' name in 2016, and facilitator of the global organisation collective that runs our international events.
**IMPORTANT INFO**
We will gather at 1pm at Fairview Park, Fairview, Dublin 3, D03 XF90 https://goo.gl/maps/a7wBHGGXbDeA8zyz8
Fairview Park is located close to Clontarf Road Dart Station and here are some bus routes that might be useful.
Some points to note:
Guys, gals and non-binary pals all welcome.
Make sure to come in costume! Here's an idea of what we're going for: https://www.youtube.com/watch?v=jMR0RSphmCk It'll be so fun if we have lots of twirling red dresses, so raid the charity shops, or try borrow a gúna from a friend if possible!
We have a few wigs left for sale on our Eventbrite page for €10, including Eventbrite fee. These are 50cm long brown-coloured wigs and will be available for collection on the day.
Bring along some snacks for the picnic. If you can bring something to share, even better! We will provide some bin bags and ask that you help tidy up afterwards.
This is an alcohol-free event, so make sure to hold off on the tipples until after the performance.
Please be aware that there may be a video recording of the performance and that members of the public will also likely take pictures and videos.
Please come prepared for whatever weather may grace us - fingers crossed it will be nice and dry.
Finally, just to say thank you to everyone who has been so helpful. We are a small voluntary team, so really appreciate people's assistance, especially our volunteer dance instructors and the lovely folk at Dublin City Council Parks, who kindly allow us to use Fairview Park!