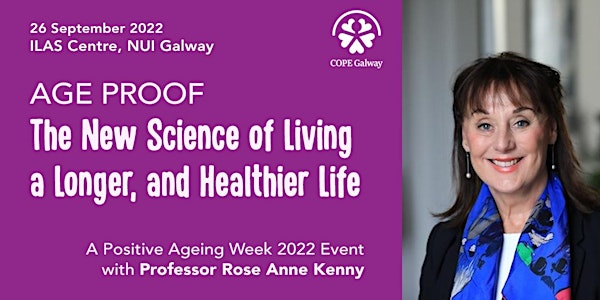 The New Science of Living a Longer & Healthier Life (Professor Rose Anne)
Prof Rose Anne Kenny, author of international bestseller 'Age Proof' on simple changes to make now in order to live longer, healthier lives.
When and where
Location
Institute for Lifecourse and Society Upper Newcastle Road Galway Ireland
About this event
Did you know that there are simple changes we can make, right now, to ensure that we live longer, happier and healthier lives?
We all age. But some of us live longer than others – and, on average, we are living twice as long as our ancestors did 200 years ago. The latest science shows that 80% of our ageing biology is within our control: we can not only live longer lives, but become happier and healthier deep into our later years.
Professor Rose Anne Kenny has 35 years of experience at the forefront of ageing medicine. In January 2022 she published "Age Proof – The Science of living a Longer and Healthier Life" which brings together her own pioneering research and the latest evidence to demystify why we age and shows us how we can control it.
She effortlessly distils scientific theory into practical advice that we can apply to our everyday lives, and she examines the impact that friendship , purpose, laughter, genetics, food, exercise and sex have on how our cells age.
During this speaking event Professor Kenny will show you the steps you can take to stay younger for longer – and will prove that you really are just as young as you feel.
DATE. 6.45pm on 26 September 2022.
VENUE. ILAS Building, NUI Galway (Free parking after 6pm).
TICKETS. FREE. (Optional donation to COPE Galway Senior Support Services).
A Positive Ageing Week 2022 event jointly hosted by COPE Galway and the Irish Centre for Social Gerontology in association with Age Friendly Galway in Support of Positive Ageing Week 2022.
_______________________________
ABOUT PROFESSOR ROSE ANNE KENNY
Professor Rose Anne Kenny, Regius Professor of Physic, Trinity College Dublin (TCD) holds the Chair of Medical Gerontology at TCD and is the Founder and Principal Investigator of The Irish Longitudinal Study on Ageing (TILDA: www.tilda.ie), Ireland's flagship research project in ageing where she leads a team of multidisciplinary researchers.
In 2016, she launched a new 120 bedded clinical research institute, the Mercer's Institute for Successful Ageing (MISA) on the site of Ireland's largest teaching hospital (St. James's Hospital), where she is Director of a state of the art dedicated falls and syncope facility – the largest such clinical model in Europe.
Prior to her present appointments, she held the Chair of Cardiovascular Research at the University of Newcastle Upon Tyne, UK, where she was Head of the Academic Department of Medical Gerontology for 12 years. Professor Kenny has held a number of senior positions including, Chair of the American Geriatric Society: Falls Prevention Guidelines (2001 & 2011), Chair of the European Cardiac Society/ European Heart Rhythm Association Guidelines for Syncope units (2015), Member of the European Cardiac Society (ECS) Syncope Guidelines Taskforce 2018, Board Member of the EU H2020 Advisory Group for Societal Challenge and Co-Chair of the working group "Transforming the Future of Ageing" lead by the Scientific
Advisory Policy by European Academies (SAPEA). She has been an advisor on the Technology Futures Exercise for the Irish Government's Department of Business, Enterprise and Innovation and for the Irish Citizens' Assembly on Ageing. She has received a number of international awards and has published widely, authoring over 600 publications to date, amongst these, her recently published book "Age Proof – The New Science of Living a Longer and Healthier Life". In 2014, she was the first female physician to be elected as a Member of the Royal Irish Academy (MRIA) and is a Fellow of the Royal College of Physicians of Edinburgh, London and Ireland (FRCPEdin, FRCP & FRCPI), Fellow of Trinity College Dublin (FTCD) and Honorary Fellow Faculty of Public Health medicine (FFPHMI (Hon)). She is the current President of the Irish Gerontological Society (IGS) and in 2022 was nominated as the 24th Regius Professor of Physic.