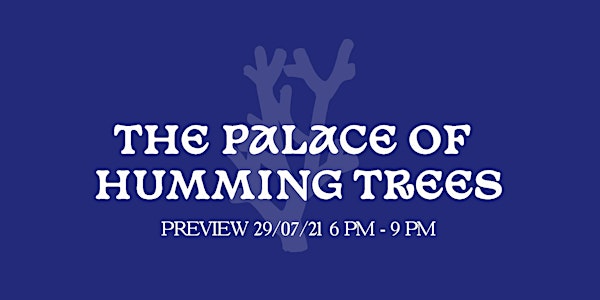 THE PALACE OF HUMMING TREES | PREVIEW
THE PALACE OF HUMMING TREES is a collaborative exhibition between artist Jack O'Flynn and writer Maria Sledmere, curated by Katie O'Grady.
When and where
Location
French Street 103 - 109 French Street Glasgow G40 4JS United Kingdom
About this event
PLEASE NOTE: This is for the Preview event of The Palace of Humming Trees. Each ticket represents one person.
To attend the Exhibition on other dates (30/07/21 to 08/08/21) book here.
The Palace of Humming Trees is a collaborative project between artist Jack O'Flynn, writer Maria Sledmere and curator Katie O'Grady which took place from April to August 2021. This collaboration will be showcased in an exhibition at French Street Studios, Glasgow, featuring new works from O'Flynn and Sledmere which travel through poetry, sculptural entities and dreams of impossible possibilities.
This project was formed in a concert – along mixtapes, Tarot readings, zoom calls and shared research. We present it here as multiple sensual journeys; to an exhibition of hyper-foxes and tenderly crumbling foliage, through a publication of lichenous illusions and rummaging thought and in a selection of music and voices which trailed our imaginings.
Intertwining themes of ecological thought, world building and re-enchantment we sought to unravel the question: how can we act and think in this present moment to ensure positive change to our relationship with the world around us? The action and thinking which we wandered became located in small and monumental formats – enacted in the everyday and in how we create and build the future. We were enveloped by uncertain certainty, whether apparent through non-human thought, the possibilities of visual art and poetry or the endorsement of magic. Living in a world brimming with unease by climate crisis and extreme inequality – brought upon by extractive capital, far-right strategies and carceral logics – we wished to communicate a different model of awareness that could refuse these structures and re-imagine being a Being.
Exploring this sentiment O'Flynn and Sledmere have created a body of work that opens a portal to a forest of vibrating thought. One of galloping states, lockdown meanderings and a lyrical suffusion through language and art that prompts how we can think and imagine differently.
Preview: July 29th 6 PM - 9 PM
Open: July 30th to August 8th 11 AM - 5 PM (closed Monday and Tuesday)
About the collaborators:
Jack O'Flynn b.1993 is an artist based in Glasgow. Working primarily in sculpture, painting, video and animation. Recent exhibitions include Roaming Llamas (2019) at ISO Studios, Blomma at the Pipe Factory (2018) and Which they crawl into their mouths (2018) Crownpoint Studios. Since graduating from the Glasgow School of Art in 2016, Jack has shown work in extensive group shows and has been selected for the RSA New Contemporaries (2017) as well as being a selected artist at the Scottish Sculpture Workshop (2018).
Maria Sledmere is currently completing a DFA in Creative Writing at the University of Glasgow. She is editor-in-chief at SPAM Press and member of A+E Collective. Publications include Rainbow Arcadia (Face Press), infra•structure – with Katy Lewis Hood (Broken Sleep Books), Chlorophyllia (OrangeApple Press) and neutral milky halo (Guillemot Press). With Rhian Williams, she co-edited the anthology the weird folds: everyday poems from the anthropocene (Dostoyevsky Wannabe). Her poem 'Ariosos for Lavish Matter' was highly commended in the 2020 Forward Prize, and her work was included in makar / unmakar (Tapsalteerie, 2019), an anthology of contemporary poets in Scotland.
Katie O'Grady is currently studying her masters in Curatorial Practice (Contemporary Art) jointly at the Glasgow School of Art and University of Glasgow. She is a founding member of the Ragaire Collective, an artist led curatorial group, and Sorey No Pics, a series of web-based curatorial projects. Following her graduation in 2017 from Limerick School of Art and Design, she worked as the event programmer for TACTIC Cork until July 2019. Katie's practice is concerned with ideas of how we perceive, create and contribute to our world(s), drawing from the occult, folklore and ecological thought.
The Palace of Humming Trees is funded by Hope Scott Trust and supported by the MLitt Curatorial Practice (Contemporary Art) course at the Glasgow School of Art and University of Glasgow.