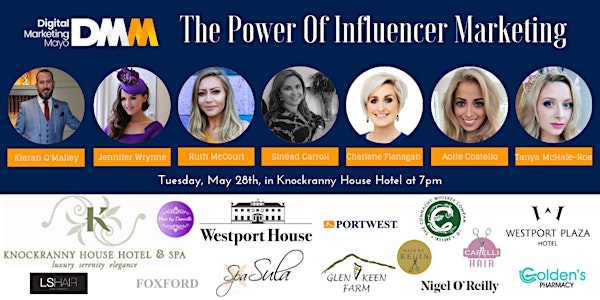 The Power of Influencer Marketing
When and where
Location
Knockranny House Hotel Castlebar Road F28 X340 Westport Ireland
Refund Policy
Refunds up to 7 days before event
Description
Digital Marketing Mayo will host one of our biggest events yet with 'The Power of Influencer Marketing' in Knockranny House Hotel on Tuesday, May 28th at 7pm.
This event originated when various business expressed an interest in involving an influencer in the promotion of their business, but they didn't know how to approach it. After some research we realized that a lot of business owners didn't know a lot about influencer marketing, and if they did they weren't sure how to go about it, or if it would be suitable for their business.
We have invited some popular Irish influencers to join us for a fantastic networking and training event in Knockranny House Hotel.
During this event, local SMEs can learn all about the Power Of Influencer Marketing and get to mingle with these popular names and discover if influencer marketing campaigns are something they could incorporate in their business.
Who Are The Influencers?
Jennifer Wrynne is an award winning milliner and fashion blogger from Leitrim, Ireland. She specialises in creating bespoke handmade hats and headpieces for Weddings and Ladies Day at the Races. Jennifer's hats have enjoyed a lot of Press Coverage, with some features in British Vogue, IMAGE Magazine, The Irish Independent, TV3's Xpose and Ireland AM. She has also been featured in many fashion blogs worldwide including Ireland, UK, Australia and Dubai.
Ruth McCourt is a blogger posts about fashion, beauty and lifestyle on FashionTruthByRuth.com. Her website has helped her become one of the leading social media influencer in the West of Ireland with her reach growing rapidly further afield. With a background in marketing, events and PR, Ruth left her previous employment last year to concentrate on building her brand further.
Sinéad Carroll is CEO of Mini Media and the force behind the Irish Blogger Agency, Ireland's dedicated agency for Digital Influencer Marketing. Irish Blogger Agency is home to more than 500 bloggers, vloggers and social influencers. Sinéad is a digital marketing strategist, a web designer and a blogger as well as being a mother, a connector and an influencer.
Kieran O'Malley is a Digital Content Creator and PR Exec for the Connacht Hospitality Group. Based in Galway, Kieran is a published author who has become one of the most influential new media strategists in the West of Ireland and beyond, helping to create several viral media successes as well as longer term digital campaigns for small, medium and large businesses. Kieran is also a well-known blogger and social media personality.
Charlene Flanagan is a super busy Mum of two to Anna (16 months) and Charlie (2 months) while also one of the most loved & well known Make Up artists in the country. With a combined following of 70,000 followers across her social media Charlene is always amazingly generous with her time, she focuses her work on what her followers want & creates looks & gives tips constantly to help build women's confidence. She is an amazing business woman with an unrivaled reputation as an amazingly skilled make up artist as well as a brides number one helper on the day of a wedding. Her newest venture Ella & Jo brings her two loves together Make Up & skincare & helping busy mums, with Ella & Jo now available in over 600 pharmacy's in Ireland. She runs her business around her two kids & her bridal business all based in the West of Ireland.
Aoife Costello has extensive experience working as an Occupational Therapist. Aoife was frequently asked by parents and teachers 'what activities or toys can I engage my child in that will provide therapeutic benefit?' By answering these questions and giving advice on social media platforms, she grew a massive following and became an influencer in this space, which has inspired her to develop Occupational Therapy ABC, an online store launching in June 2019. This will provide occupational therapy (OT) boxes containing items for kids with special needs but will provide benefit to kids of all ability to improve their functional skills like fine motor skills or handwriting skills. The OT boxes are also ideal for parents interested in the development and promotion of functional everyday skills and excellent for children with developmental delays or sensory issues.
Tanya McHale-Roe is a fashion, beauty and lifestyle blogger for women with real lives. Her very popular instagram account has grown through honest reviews of style and the newest products in addition to insights of the daily life of motherhood. She was nominated as Best Newcomer at the Beaty Blog Awards last year
So whether you are someone thinking of growing your profile to become an influencer, or a business who wants to see how to use this new trend to increase sales, come along and join us for our last monthly event before the summer break. Limited tickets are available