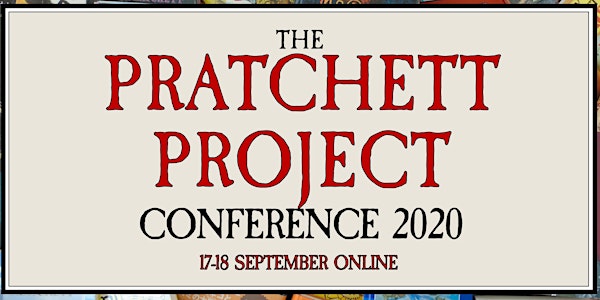 The Pratchett Project Conference
The Pratchett Project Conference 2020
About this event
Please note that all times are in Irish Standard Time
DAY 1: 17/09
PANEL 1 THE SPACE OF IDEAS
9.30 David Farnell 'Turn the world upside down!': Utopian Critique in Nation
10.45 Matthew Roughan Space in Pratchett's Narrative Networks
11.30 Ruchira Mandal Political Idealism in the Discworld Novels
12.15 Helena Esser The Big Wahoonie: Ankh-Morpork as Cross-Media Urban Imaginary
13.00 An interview with Rob Wilkins
PANEL 2 TRANSLATION AND HUMOUR
14.00 Yehveniia Kanchura Translating Pratchett into Ukrainian: Strategies and Challenges
14.45 Damon Tringham Allusions and Cultural References in Terry Pratchett's Jingo: Translation and Understanding
15.30 Kamil Karaś Humour, parody and satire in Terry Pratchett's Discworld novels
16.15 Oliver Rendle 'Leaving Early to Avoid the Rush': Pratchett, Perry and Contemporary Pessimism
17.00 close
DAY 2: 18/09
PANEL 3 ETHICS AND IDENTITY
09.30 Claudia Wittig God's moral superior? Individual Ethics and the Reception of the Discworld Novels
10.15 Colin Smythe Working as Terry Pratchett's Literary Agent
11.30 Samuel Poots Pratchett: Bad Faith and the Crab Bucket
12.15 Wendy O Leary I Ink, therefore, I am: Elementary Forms of Terry Pratchett Fandom
13.00 lunch
PANEL 4 RESEARCH AND TEACHING
14.00 Giti Chandra An Interdisciplinary Approach to the Challenges facing Pratchett Studies today – Monstrous Regiments: How Fantasy Knox Down the Patriarch's Door
14.45 Olena Tykhomyrova Incorporating Terry Pratchett's Fiction in the University Curriculum
15.30 Mikaela Springsteen 'Lies to children': From folk to formal science in Terry Pratchett's Discworld
16.15 Maria Castrillo Collecting and archiving Terry Pratchett: challenges, opportunities and unknowns
17.00 close
You can find more details, as well as the full abstracts for each of the presentations in our Conference Booklet, which you can download here.
Please also check out the Terry Pratchett at the Unseen University event, part of the Culture Night Festival 2020, which will take place on the evening after the conference finishes. You can find more details here.
Attendance at the conference is free and open to everyone, irrespective of university affiliation, country, or background. However, when registering, the system will give you the opportunity to make a donation of any amount to the Pratchett Project.
We are currently fundraising to support the branch of the Pratchett Project that focuses on researching Alzheimer's Disease. Sir Terry donated $1 million to research Alzheimer's Disease after being diagnosed with the degenerative brain disease in 2007. We think it is important to continue the work that was so important to him. The funds raised through donations to the Pratchett Project Conference 2020 will be used in conjunction with funds raised by other activities of the Pratchett Project this year to help push our research forward.