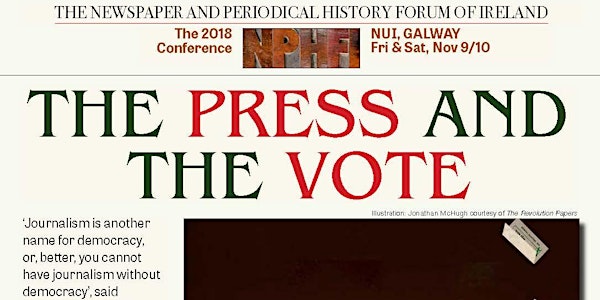 The Press and the Vote, NPHFI conference 2018
Location
National University of Ireland, Galway
University Road
H91 TK33 Galway
Ireland
Refund policy
Refunds up to 1 day before event
Description
Keynote address by Prof. Louise Ryan (University of Sheffield), 'The Irish Citizen as an archive of feminist history - reading the past through a newspaper source'
'Journalism is another name for democracy, or better you cannot have journalism without democracy', said the American journalism scholar James Carey. The tenth annual conference of the NPHFI explores the relationship between journalism, journalists, democracy and elections on the 100th anniversary of the pivotal 1918 election. That election saw women vote in Britain and Ireland for the first time, the extension of the franchise, and the victory of Sinn Fein and the subsequent establishment of the first Dáil. Over two days at NUI Galway the relationship between the press and the vote will be discussed and debated.
For further information keep an eye on the NPHFI's Facebook (facebook.com/NPHistoryForum) and Twitter (@NPHistoryForum) pages, enquiries can be directed to the NPHFI's secretary, Dr James O'Donnell, at nphficonference@gmail.com.
Registration covers membership of the NPHFI and supports its ongoing work and publications programme.