Description
'The Profession of Play and Inquiry' is a conference for Early Years Professionals including Early Years Educators, Primary School Teachers, Further Educators, students and others interested in early education. The conference will include a workshop, presentations and discussions.
The schedule for the evening will be as follows: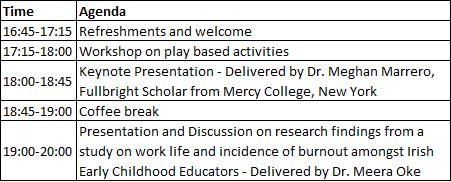 The conference will take place in the Kelly Theatre which is located on the ground floor beside reception. To attend this free conference please register in advance.