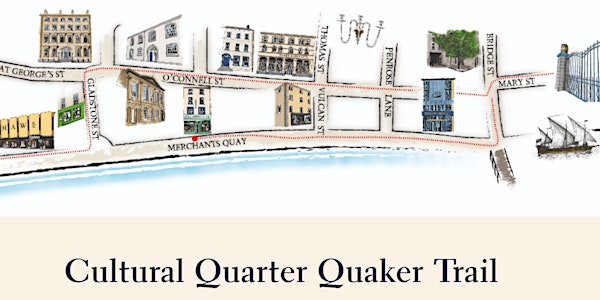 The Quaker Trail – A Journey of discovery - Thursday Trail
Highlights important sites relating to the industrial heritage of the Quaker community in O'Connell Street area of Waterford city.
When and where
Location
Granville Hotel Meagher's Quay Waterford Ireland
About this event
The Quaker Trail has been developed by Waterford Cultural Quarter to highlight important sites relating to the industrial heritage of the Quaker community in the O'Connell Street area of Waterford city. With thanks to Joan Johnson who approached Waterford Council with the vision for a Quaker trail in the city, and is testament to many months of Joan's research, hard work and tenacity.
The first Quakers arrived in Waterford in 1655 as refugees as many were fleeing from religious persecution in England. Within 150 years of arriving here many of the families had moved to O'Connell Street and had become highly successful in business. O'Connell Street was the hub of enterprise in the city due to its proximity to the port.
Families such as Jacobs, famous for biscuit making, and Penrose, instrumental in establishing the celebrated Waterford Crystal glass are two well known Quaker family names that had business in the area.
The Waterford Municipal Art Collection was formed by Quaker families and this important collection of art is now exhibited in the new Waterford Gallery of Art on 32/33 O'Connell Street. The Quaker Meeting House, now Garter Lane Arts Centre, was the place of worship for this community until it was relocated to Newtown. Waterford Distillery which was set up by the Strangman family in 1792 as a brewery is at the eastern end of the Cultural Quarter.
Quaker families were involved in the establishment of the Waterford Chamber of Commerce based in the Port Building, the establishment of Waterford's railways, shipbuilding, iron foundries and the building of the first bridge crossing the mighty River Suir.
They were also highly involved in social work including Famine relief, alleviation of poverty, championing the rights of women and religious tolerance.