Location
The Chocolate Factory Arts Centre
26 King's Inn Street
Dublin 1
Dublin
Ireland
The Real Wine Fair lands in Ireland for the first time! Meet 28+ true artisan growers and taste 170+ Organic, Biodynamic and Natural wines
About this event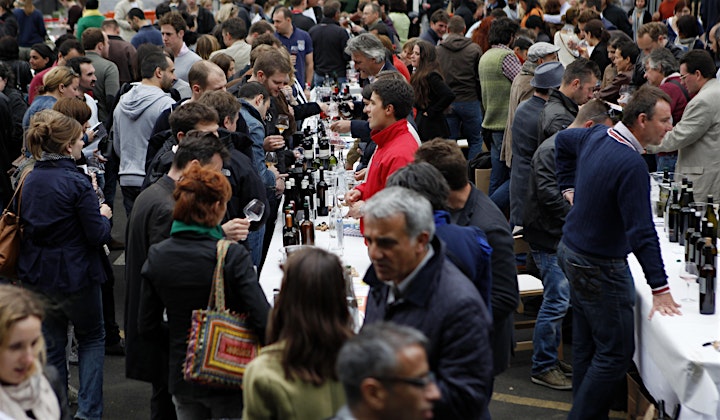 The Real Wine Fair Ireland is a one-day wine fair celebrating artisan growers who farm organically and/or biodynamically in the vineyard and make wine with minimal interventions in the winery. Around 28 growers and winemakers will be pouring and presenting their wines to consumers, trade visitors and press.
In addition to the extensive range of wines being shown, the fair will also feature food stalls showcasing the best of Irish artisan food (Fumbally Cafe & Loose Canon Cheese and Wine)
The list of winegrowers is already quite impressive (and growing!)
John House (Ovum winery, Oregon)
Kelley Fox (Oregon)
Evan Lewandowski (Ruth Lewandowski Wines, Utah & California)
Bryanna Schneider Holden (Sokol Blosser, Oregon)
Mike and Karen Roth (Lo-Fi Wines, California)
Judith Beck (Austria)
Elena Pantaleoni, Nico Sciackitano (La Stoppa, Emilia-Romagna)
Theo Zierock (Foradori, Trentino)
Francesco Pascucci (Ampeleia, Tuscany)
Francesco Maule (Gambellara)
Arianna Occhipinti (Sicily)
Eric Narioo (Vino di Anna, Sicily)
Federico Stefina, Rhona Cullinane (1701, Franciacorta)
Paco and Sara Oliván (Grimon, Rioja)
Eleonora Infuso (Menade, Rueda)
John Wurdeman (Pheasant's Tears, Georgia)
Pat Sullivan (Australia)
Gareth Belton (Gentle Folk, Australia)
Pierre et Catherine Breton (Bourgueil)
Alexandre Bain (Pouilly Fumé)
Christian Binner (Alsace)
Pierre Dietrich (Achilée, Alsace)
Nicolas & Karine Mirouze (Beauregard-Mirouze, Corbieres)
Corinne Andrieu (Clos Fantine, Faugeres)
Laurent Cazottes (Gaillac)
Damien Verielle (Clos de Caveau, Vacqueyras)
Thibaud Chaume (Chaume-Arnaud, Vinsobres)
Olivier Schoepfer (Chateau du Cedre, Cahors)
Guillaume de Conti (Tour des Gendres, Bergerac)
The Fair will be open to the Trade and Press from 10.30 am and to Consumer (with tickets) from 4.30 pm to 7pm. Tickets are available to buy on this site for €20
Throughout the month of May, The Real Wine Month, a wine promotion showcasing Organic, Biodynamic and Natural wines will be running in both the on- and -off-trade in Ireland and in the UK.
For further information about The Real Wine Fair please contact fiona@lecaveau.ie
www.therealwinefair.com
This is a ticketed event open to the public from 4.30pm to 7pm.
For trade customers, please get in touch with your account manager to register your attendance.
In association with The Real Fair, Le Caveau Wine Merchants and Les Caves de Pyrene UK.