The Resilient Mind - CIPD South East Regional Event

Wednesday, 16 May 2018 from 07:30 to 09:00 (GMT)
Event Details
CIPD South East Regional Committee are pleased to invite you to our next event 'The Resilient Mind' which will be held on Wedmesday 16th May 2018 at 7.30am in The Viking Hotel, Waterford.
As a busy person you understand the demands of the real world. The increasing demands placed on us personally and professionally affect our health and business. What makes some people focus and perform better under pressure while others struggle? The answer is Resilience. This does not mean being hard. Resilience is a measure of your subconscious flexibility and also what practical and psychological coping mechanisms you have access to.

Aim

To teach people how to actually control their own personal stress response.
Learning Outcomes
At the end of this 1-hour session, you will understand:

 What stress is

 The affect it has on you

 How your mind works

 The relationship between thoughts and feelings

 The difference between fear and danger

 The difference between fear and courage
People can ask questions throughout the talk.

Please note, we will also hold our AGM and would ask those interested in being part of the CIPD Southeast Committee to stay on after Richard's session.
Speaker: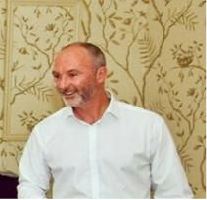 Richard Burke
MBA, PIIE, MIITD, MICHP
Richard Burke has a unique mix of qualifications. He is an engineer, an MBA qualified
manager, an award winning corporate trainer and a hypno-psychotherapist. His whole career
has revolved around helping people manage change.

He qualified as an engineer in 1992, winning the A.P.O'Reilly award for his paper on
industrial psychology. After earning his MBA in 2002 he worked as a senior manager in
manufacturing plants. He then qualified as a trainer in 2007.

Richard practices hypno-psychotherapy at a clinic called Safe Harbour, which he founded in
2005. At this clinic, he helps adults and children tackle a huge range of disorders. Having
suffered from debilitating anxiety himself, he specializes in stress and trauma. This experience
of anxiety motivated him to requalify as a therapist. Many companies use Safe Harbour for
personal interventions with their staff.

Richard set up Resilience Matters Ltd in 2011, which focusses on reducing business and
personal stress. He won the IITD national training awards in 2015 for the personal and
business interventions he delivered on-site to 800 staff at pharma company Sanofi. In the same
year, his company was a winner at the National Health and Safety Awards for Pioneering
Resilience. His interventions reduced absenteeism by 30% and visits to the doctor by 18% in
a 12-month period. His courses are part of the Engineers Ireland CPD and degree programs
and are also part of the Nurses' Board CPD schedule.

Richard has trained thousands of people in stress management. He works with large
corporations, government institutions, multinational companies, educational bodies, hospitals
and non-profits. High-profile clients he has worked with include Merck, Sharpe and Dohme,
Waterford Institute of Technology, Allied Irish Bank, Waterford Council and the Camphill
communities for people with intellectual disabilities.

Richard is the chairperson of the newly formed not for profit national body called The Work
Place Resilience Institute. The remit of this organization is to be a center of excellence for the
management of personal and organizational stress in Ireland.

As you can see, Richard has an in-depth knowledge of organisations and people. His skill-set
marries business and organisational development with psychological understanding and
improvement. He is a keynote speaker every year at multiple national conferences.
Follow CIPD Southeast
Facebook: https://www.facebook.com/cipdsoutheast/
Twitter: https://twitter.com/cipdsoutheast?lang=en


Please Note:
Professional photography and video production may be taking place at the event and these images may be used on future promotional materials for CIPD. Please note that by attending the event, you are giving your consent for your image to be used on any CIPD promotional materials.
For your security and peace of mind, CIPD and its subsidiaries will not supply your details to any organisation for marketing purposes. By submitting this request you confirm that you agree to the use of your information as set out in CIPD's privacy policy. We reserve the right to include your name in a list of delegates at the event.
Non-members may click here to sign up to receive our e-newsletters which will keep you up-to-date with HR news in Ireland as well as CIPD Ireland events and survey research.
Do you have questions about The Resilient Mind - CIPD South East Regional Event?
Contact CIPD Ireland
When & Where

The Viking Hotel
Cork Road
Waterford
Ireland


Wednesday, 16 May 2018 from 07:30 to 09:00 (GMT)
Add to my calendar